Understand more about how to use Tradify's web app. Create Jobs, Quotes, Invoices and record time faster and simpler.
You can also watch our video walkthroughs for the Australian/New Zealand and the United Kingdom regions.
For more information on how to use the Tradify mobile app, check out Getting Started with Tradify Mobile.
Customising your Tradify account settings
If you're still trialling Tradify and want to upgrade, simply head to Settings then Subscription and Billing. From there, enter in your details and upgrade your account to a paid subscription.
You'll need to confirm the following:
Staff Members with Login Access - the number of staff members with login access.
Staff Members without Login Access - the number of staff members with no access.
I have a promo code - use this if you have a promotion code to enter.
Billing Information - Tradify uses this as the Bill-To information which is displayed on your Tradify subscription invoice.
Credit Card Information - This will be the card your Tradify payments come from.
Once upgraded, you can still edit your Company Details that you entered whilst trialling Tradify. Simply head to Settings then edit the fields in the Company tab.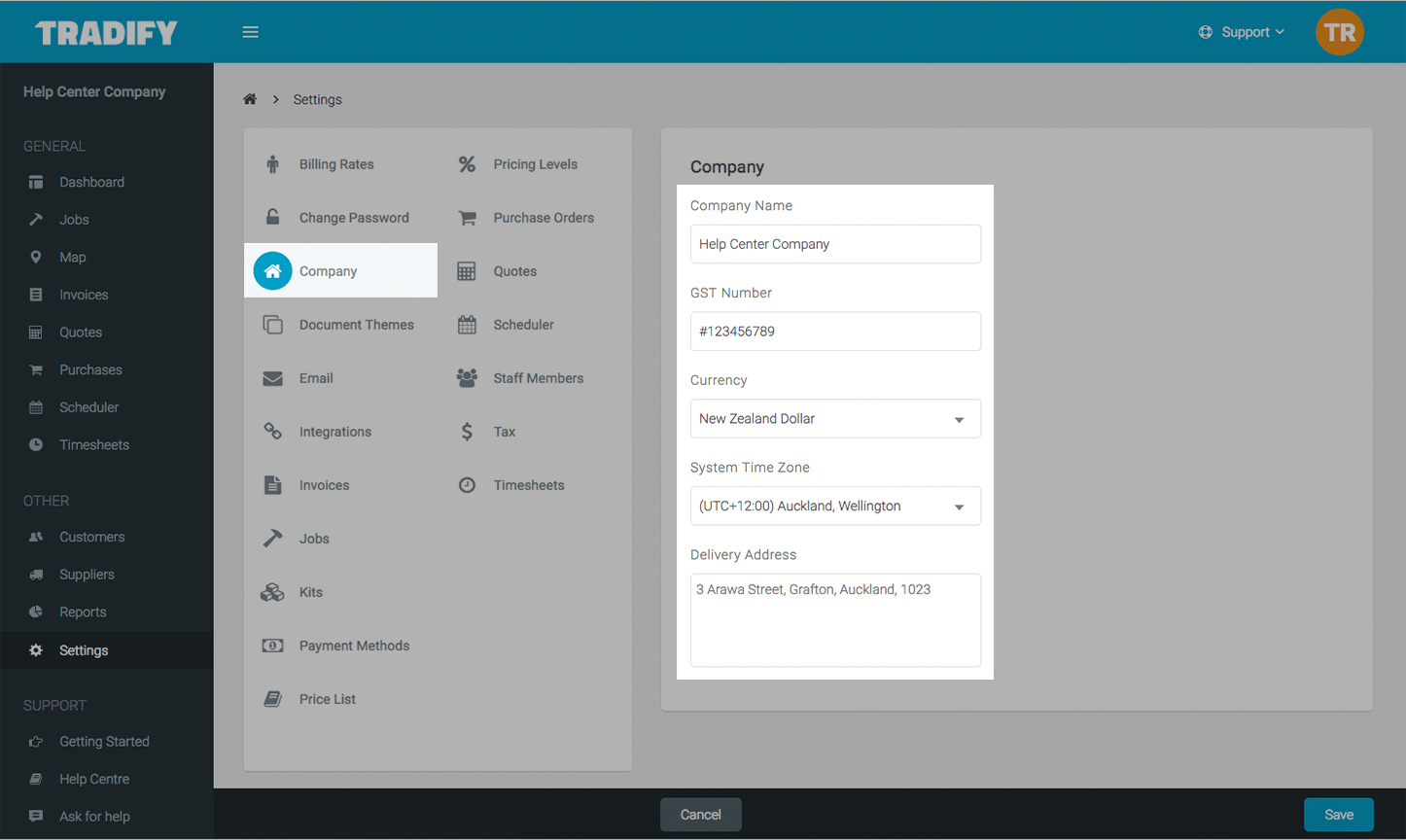 Changing your security settings
If you need to update your password, add two-step authentication or log out of active sessions, you'll need to:
Go into Settings
Select Security
Change your password, add two-factor authentication or remove access from other devices.
Understanding Account Permissions
Not all accounts in Tradify are the same. As an Account Owner or Administrator, you'll have permission to add and edit permissions.
When creating or editing your Staff Members, you can select the following permission checkboxes for your users:
Timesheets
Job
Invoicing
Quoting
Purchases
Reports & Financials
Scheduling & Dispatch
Enquiries
Staff Tracking
Settings
Staff Members
Subscription & Billing
You can create No Access users, which means that these staff will not have any access to Tradify on any device.
You can learn more about user permissions in the Creating New Staff Member Users in Tradify article.
Creating Email Templates
Creating and editing Email Templates allows you to talk to customers in your voice.
By default, you'll have the following templates:
Invoice
Job Service Report
Purchase Order
Quote
To create a new Email Template, you'll need to:
Head over to Settings
Select Email
Select New Email Template.
Add the relevant details and then select Save.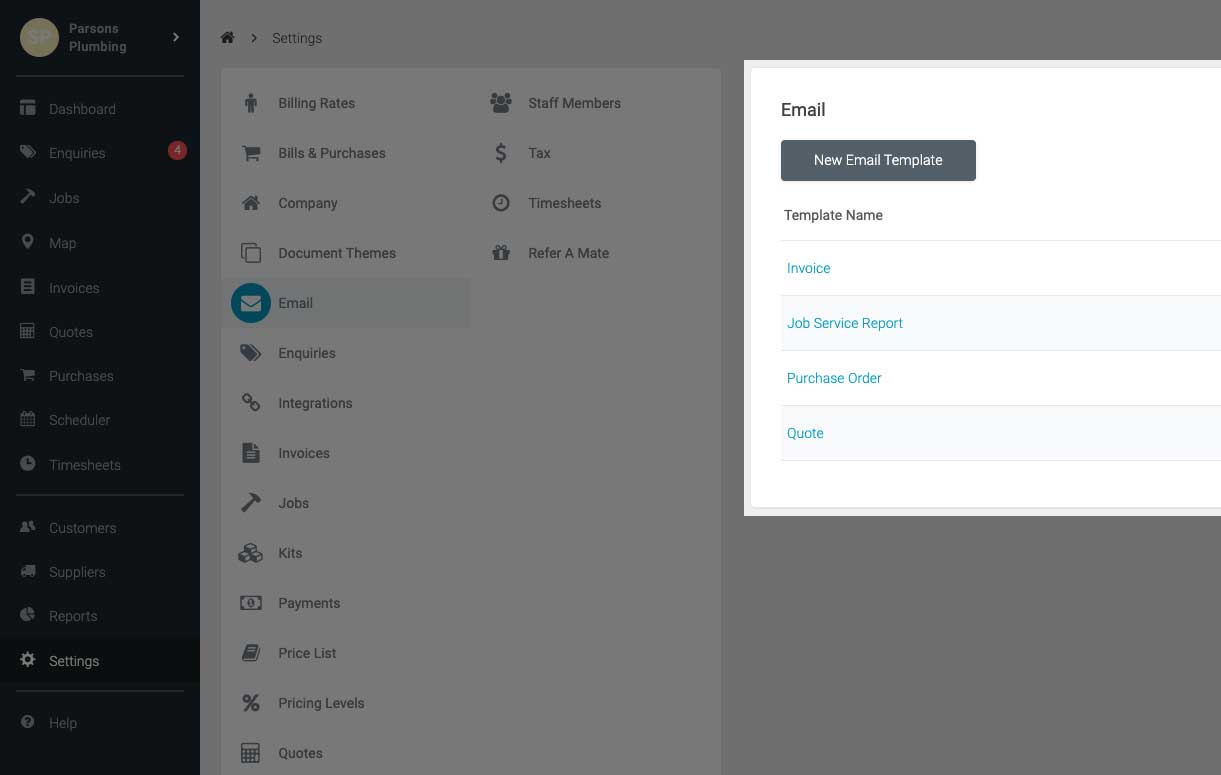 Editing templates only requires you to select your chosen template and from there, you can edit as you see fit.
Adding Billing Rates
You can use Billing Rates in Tradify to charge different amounts for varying types of work.
For example, you'd charge a different hourly rate for an apprentice's work rather than an experienced tradesperson. Or you might charge different hourly rates for weekend or after-hours work.
To add and edit Billing Rates, do the following:
Go into Settings
Select Billing Rates
Now, you can create a New Billing Rate by pressing the button or
Select an existing billing rate to edit details.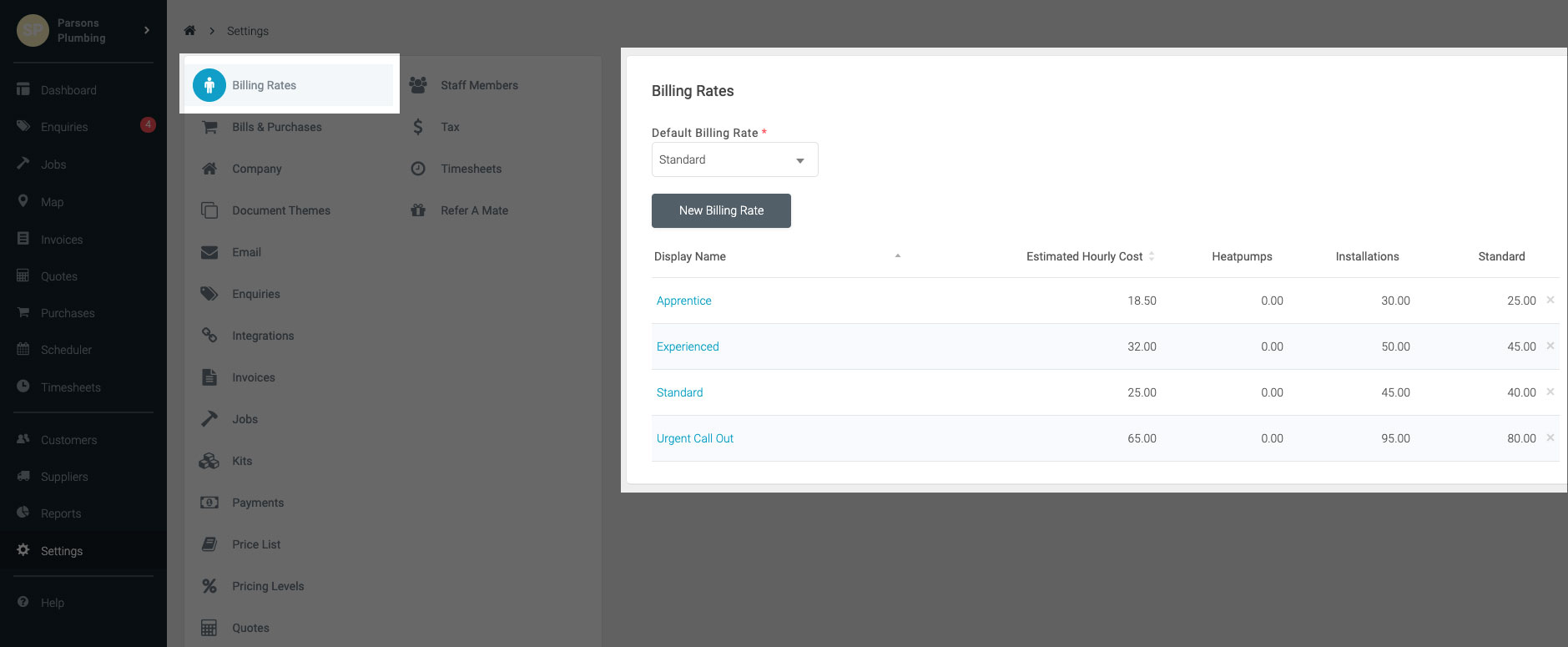 Creating Document Themes
Document Themes can be used to set up your Quotes, Invoices, Purchase Order and Job Service Reports. This feature defines what is shown to customers, both on a device and when printed.
You can add your logo, terms and conditions and other notes to Document Themes. This makes your documents look more professional and will automatically add to any Quote, Invoice, Purchase Order or Job Service Report you make, given you select a Document Theme when creating them.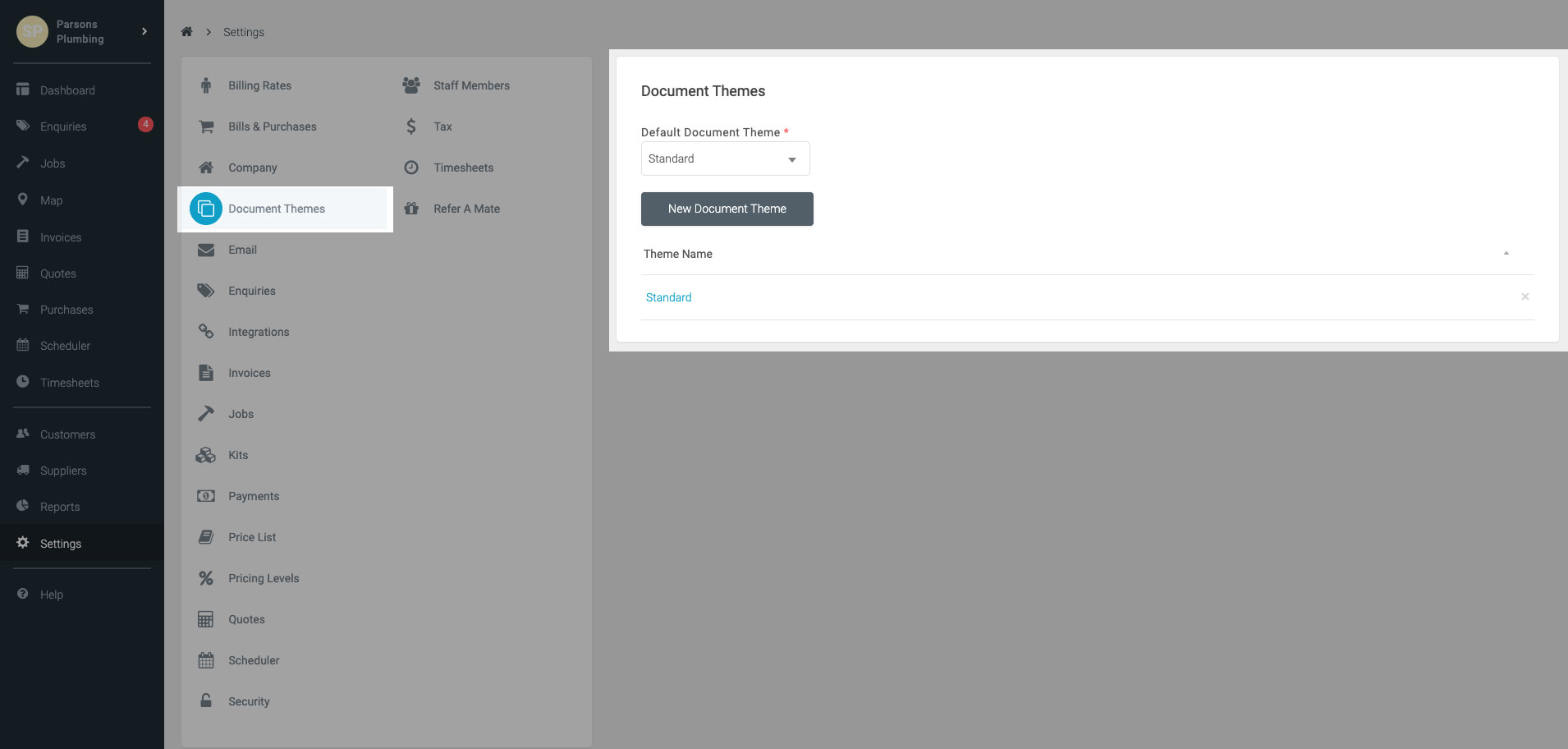 Creating Your First Quote
Your first Quote will help set the tone with a new customer. Tradify's seamless system allows you to easily keep track of quotes and win more work.
There are a few ways to create Quotes, the most popular being:
Creating a Quote directly from the Dashboard
Creating a Quote from an Enquiry
Creating a Quote from a Job
Creating a Quote from the Customer Profiles
You can learn more about creating quotes in How To Create Quotes in Tradify.
Creating Your First Job
Jobs are the main unit of measurement for work in Tradify's system. Jobs are attached to a Customer profile and include:
Completed Tasks
Quotes
Invoices
Assigned Staff Members
Scheduled Time
Timesheets
Job Service Reports
Materials
Purchase Orders and Bills
Additional Photos and Notes
Job Status
There are various ways to create new jobs, including:
Creating a Job on the Dashboard
Creating a Job from the Jobs tab
Creating a Job from a Quote
Creating a Job from an Enquiry
You can learn more about creating Jobs in How To Create Jobs in Tradify.
Jobs can be used as an overarching tool to organise your staff, tasks and time. You can also add multiple locations to a Job through the Site function. Learn more about creating sites on the How To Create a Site in Tradify article.
Using the Enquiries Feature
Tradify's Enquiries feature takes care of your data entry for work requests. You can choose to enter in customer details yourself or set up an Enquiries form and/or email address that allows customers to contact your business directly, through Tradify's system.
This video explains the Enquiries feature. You can also check out the Getting Started with Tradify Enquiries article.
Assigning Staff Members to your Job
Keeping track of your team has never been easier with the Scheduler and Job tools.
There are two main ways to assign staff to jobs in Tradify:
You can add Staff Members directly within a Job
You can add Staff Members while using the Scheduler function to plan work
You can learn more about assigning Staff Members to Jobs in the Assigning Staff to Jobs in Tradify article.
Scheduling time in for your Job
The Scheduler tool is a great way to manage your team. You can view your workflows in a calendar view, where you can see planned time against Jobs and Staff Members.
Just like assigning Staff Members to Jobs, you can schedule Jobs in two ways:
Within the Job Dashboard
Within the Scheduler tab
Scheduling time within the Job Dashboard
If you go through the Job Dashboard, you would:
Head to the Scheduler tab within the Job
Select Open Scheduler
Locate and select the relevant time slot to create an appointment
Using the Scheduler tab
Using the Scheduler tab allows you to see all the Jobs logged against Staff Members and Customers.
You can view the Scheduler in five different calendar views:
Day
3-Day
Weekdays
Week
Month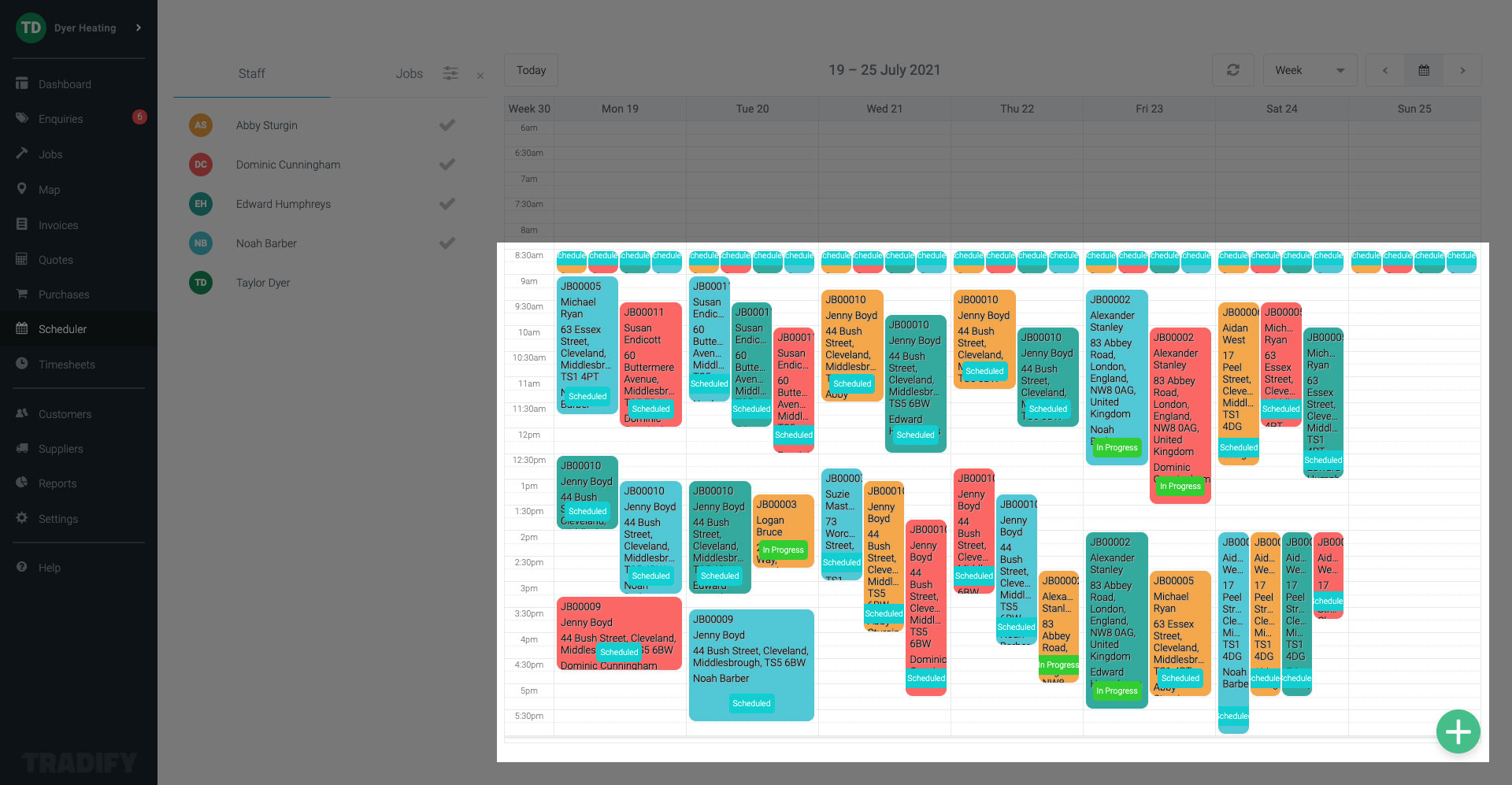 Creating an Invoice for your Job
Tradify makes invoicing simple, fast and accessible. There are a variety of invoices, including:
Time and Materials Invoices
Partial/Progress Invoices
Miscellaneous Invoices
Recurring Invoices
Invoicing is a powerful and flexible tool within Tradify. To learn more, check out our Invoices section of the Help Centre. We also have Invoice FAQs to address common questions and issues.
Creating a Job Service Report
Job Service Reports show a summary of work completed on a Tradify Job. This can include completed tasks, time, materials and additional photos or notes.
Customers can sign-off Job Service Reports in two ways:
Through an emailed link where they can Accept or Decline.
In-person by using the Tradify Mobile App. Customers can sign the report on screen. The signature displays on Job Service Reports. You can send the signed version of the Job Service Report to your customer.
This video explains Job Service Reports. Additionally, you can visit our Help Centre's section covering Job Service Reports.