The 'Getting Started' process is the first stage of setting up your company's Tradify account. You will enter a few details about your company and set up important features of the account. After completing this process, you will be ready to begin creating Quotes, Jobs, Invoices and more.
Step 1: Company Info
Enter the total number of staff who work for your company. This helps us understand which Tradify features are likely to be important to you, as well as how you might use the system for your business.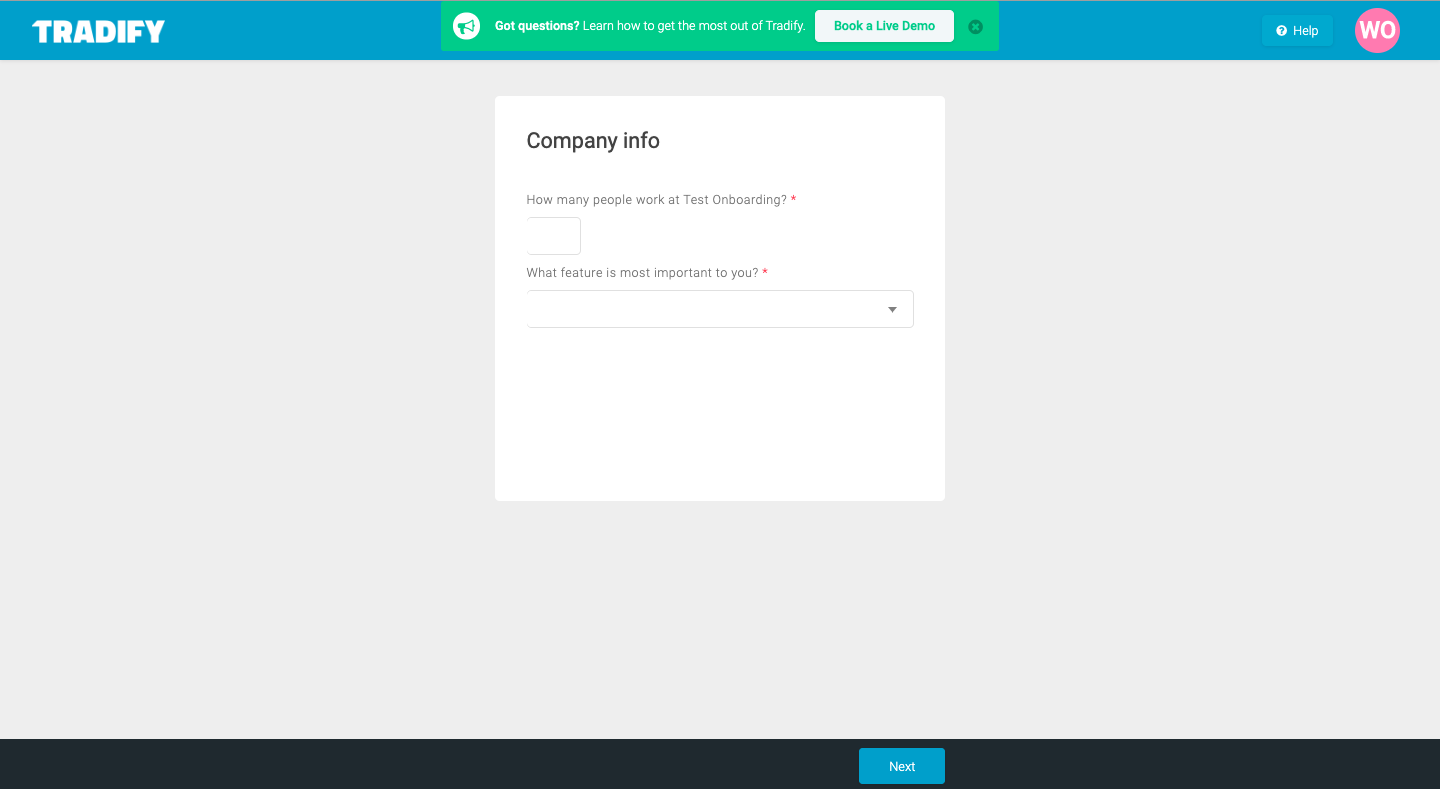 Step 2: Accounting Package
This step is for those who wish to integrate Tradify with your online accounting package. Tradify can connect with Xero, MYOB AccountRight, MYOB Essentials and Quickbooks Online.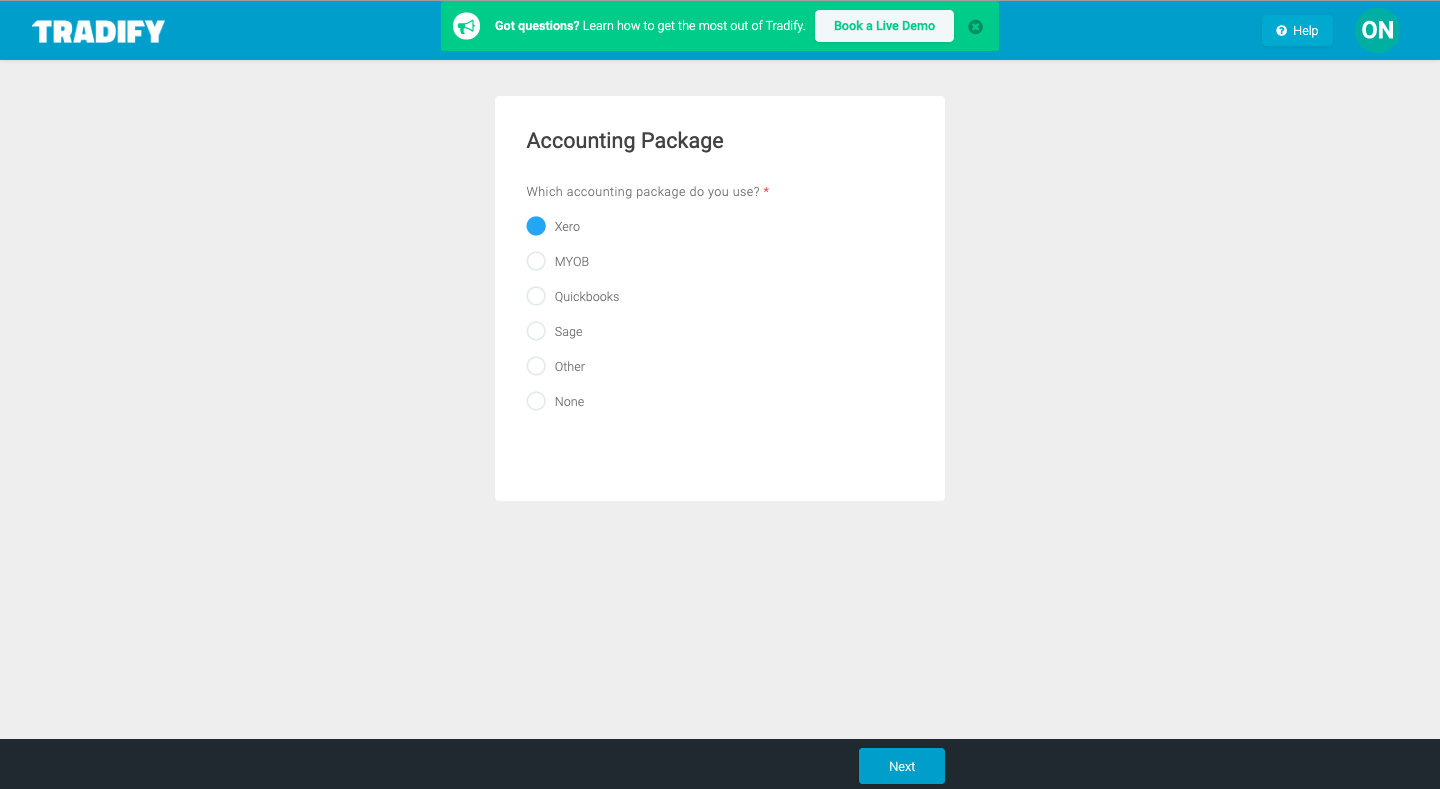 If you use an online accounting package for your business, click the option which applies to you. After selecting the accounting system you use, you then have the option to integrate Tradify with it.
This step can be skipped until later if you'd like to continue without integrating. For more details on linking Tradify with your accounting package, check out these guides: Accounting Integrations
Step 3: Get Up And Running
After the accounting setup page, you will be directed to the main Tradify Dashboard page. Here you will see the day's Job information as well as quick-access to other areas of Tradify.
The Get Up And Running window outlines the steps you can take to finish your account setup process, click any of the options to set up that section: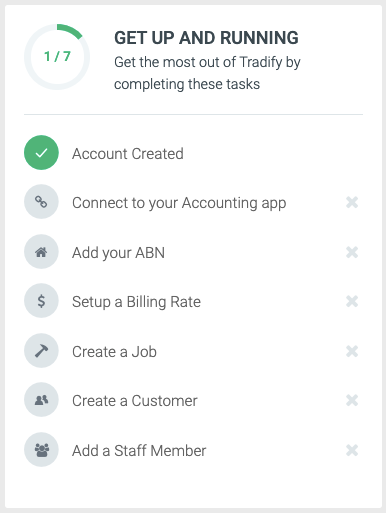 Connect to your Accounting app
If you skipped the accounting integration process on the previous pages, you are able to return to it at any time here. Click the 'Connect to your Accounting app' option to be taken to the setup process within Settings > Integrations.
We have information on setting up and using the integration here: Accounting Integrations
Add your ABN/GST/VAT Number
Click this option to be directed to your Company Settings. Here you can enter your company's ABN (Australian companies), GST Number (NZ companies), VAT Number (UK companies) or Tax Number (North American Companies). This number will display on documents such as Quotes and Invoices.
Here within Settings > Company you also have the option to edit The Company Name, Currency, System Time Zone and company Delivery Address. For more details on these fields, check out this article: Company Information
Setup a Billing Rate
Billing Rates in Tradify are used to manage your labour rates and how you charge labour to your customers. Click this option to be taken to Settings > Billing Rates, here you are able to set up labour rates for using on Quotes, Jobs, Invoices and Timesheets.
For more information about setting up and using Billing Rates, check out this guide: Billing Rates
Create a Job
Click this option to create your first job in Tradify. You will be taken to the 'New Job' page where you can begin entering information about the Job. You can also get to this page via the Jobs tab in the main menu.
For more information on creating and managing Jobs, see these articles: Creating and Processing Jobs
Create a Customer
You can keep a list of customers in Tradify like a contact book, click this option to create your first Customer profile. You can also go through this process by clicking the Customers tab on the main menu.
There are multiple options for populating Tradify with your customer list, check out these guides on how you can do this: Customers
Add a Staff Member
To begin adding Staff Members to your Tradify account, click this option to be taken to Settings > Staff Members. Here you can create login profiles for each staff member.
For a detailed break-down on creating and managing staff members, see these guides: Staff Members