Tradify usernames are set on each staff member and are used as the unique identifier for the staff member. Changing your admin username on Tradify requires you to make a new account. However, the process is simple.
Generally, your admin username will be the email address you used when signing up to Tradify. In the app, this means your username will appear as your email address to others.
Creating a new account
You can change your admin name to something more relevant, like your first name, a nickname or a job title.
To do this, go into Settings and under the Staff Members menu, you'll find the option to create new members. You will need to create a new admin user.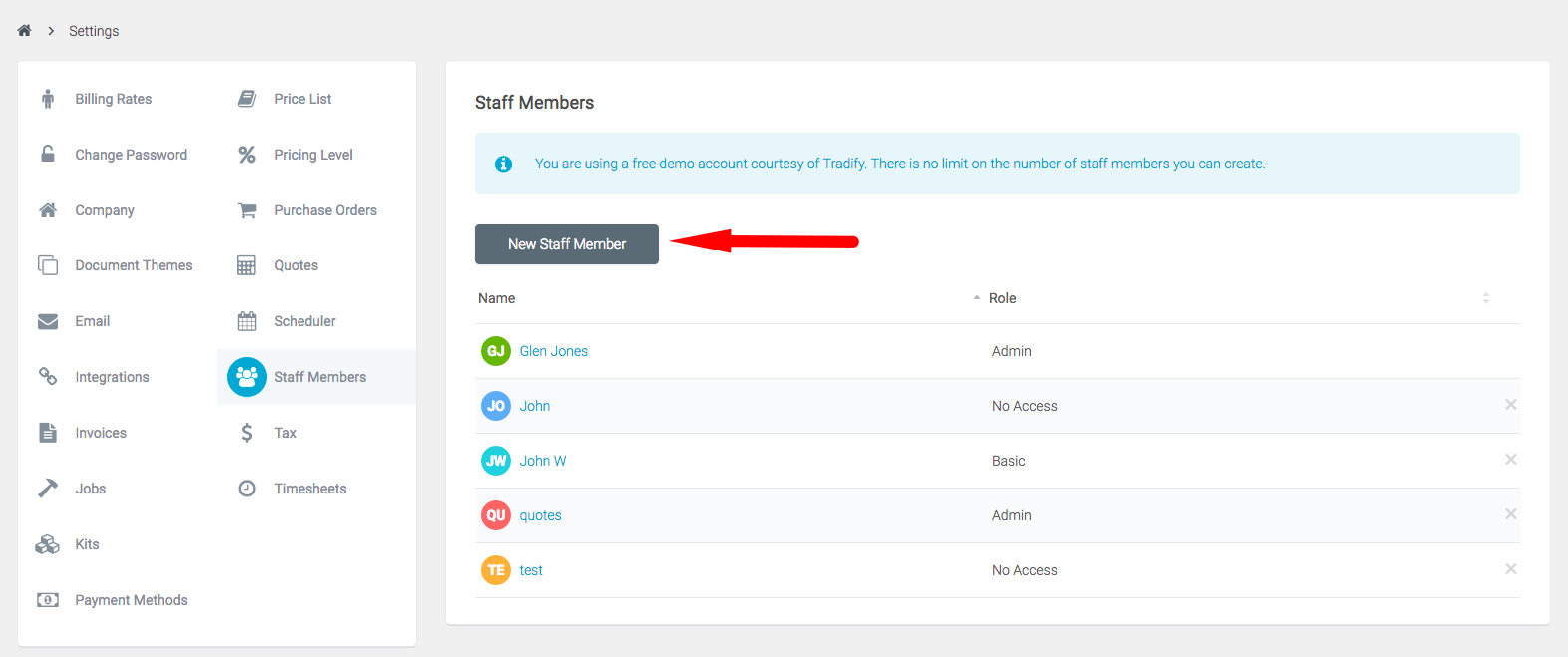 Fill in all the details for the new admin user, including their name, email address, default billing rate and hourly charge out rate.
Note: These fields are mandatory.
Ensure you've correctly entered your email address, or you will not receive your login credentials. Email addresses can be either personal or a central inbox where Tradify sends login credentials. The email address will be the location for any password reset links and instructions.
Additionally, the selected address acts as the "reply-to" inbox for customer replies to emails you'll send through this Tradify account.
Editing your new account's details and permissions
You can then choose to check the Use Email Address as Username field. Deselecting this allows you to change the username and how it appears throughout Tradify. These usernames must be unique – you will have to choose another username if it is taken by another Tradify user.
You can also select a colour to easily find users on the schedule. Adding in phone and mobile numbers helps to centralise contact information.
Admin accounts have the most access to Tradify's features. You'll need to select all the Staff Permissions.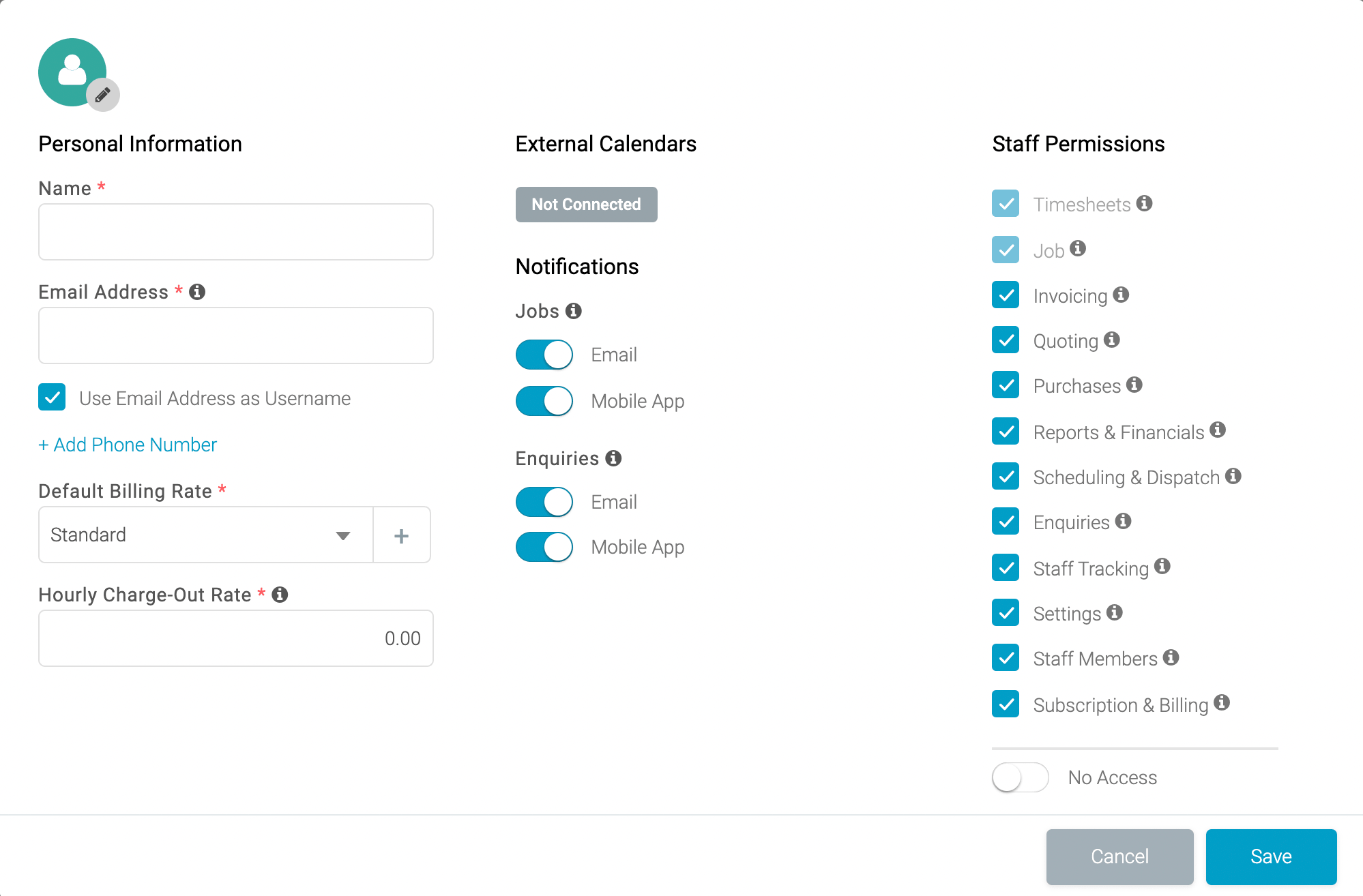 Once you have created this username, your login credentials should be in your nominated email address' inbox. Log out of the current user. Using the credentials sent to your email address, you can then log into your newly created admin account.
Once you're in your new account, you'll need to change the Account Owner to your current account if you want to deactivate your previous account. You can only transfer account ownership to other admin users.
Deactivating an account only requires you to select the Status switch off. You'll be prompted on-screen to confirm your decision.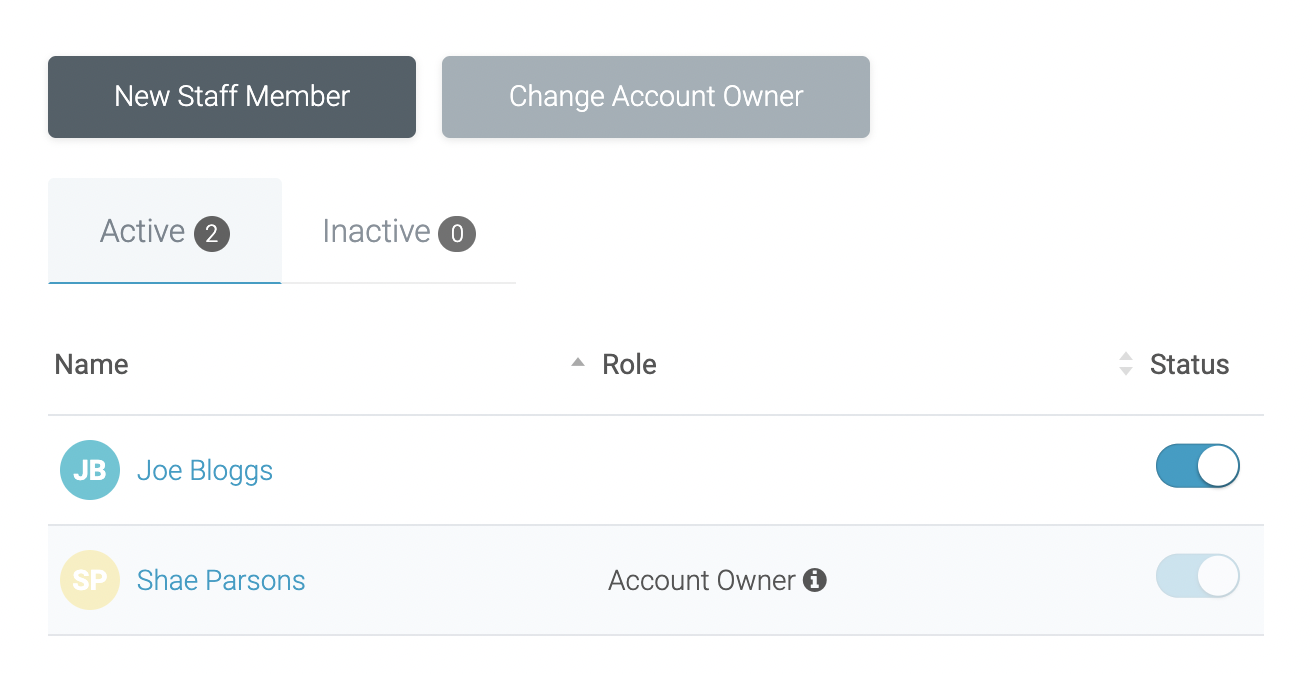 Now you have switched accounts, you can use all of Tradify's features as an Admin. You will appear in Tradify as your selected username.
Changing a username on the same account
Although we don't offer the ability to change usernames within the platform, we can do this for you on request. In the event that you'd like to change a username, please contact our support team with the following information:
Which staff member would you like to make the change to?
What username would you like to replace theirs with?
Important Note: Usernames must be unique across our platform. If the username has previously been used by another user, you'll be advised to pick something different.