Understand how to create new staff member users in Tradify through Settings.
Adding new Staff Members
To add a new staff member, head over to Settings, click on Staff Members, select "New Staff Member" and input the relevant details. When you have filled in all the required details, select Save.
Important Note: In order to add a new staff member, you'll need to have subscription & billing permissions enabled.

Whether you're creating new staff members or deactivating existing staff members, Tradify will automatically update your subscription count so to ensure you're always being charged the correct amount.
For the purpose of this video, we've left most of the options blank and instead listed a comprehensive overview of each option below.
Note: In order to create a new staff member, you must supply a Name, Username, Email Address, & Hourly Rate. These fields are all mandatory.
General Information:
Name - Full Name of the staff member (This can be changed at a later date if needed).
Username - Enter a unique username to identify the staff member.
Note: The username is used to log into Tradify and therefore must be unique across Tradify's entire customer database. You can use an email address as a username, but bare in mind, it won't have any connection to the email address.
It's just a username. If you get an error saying that the username already exists, add additional characters or alter the username in some way to make it unique.
Highlight Colour - Select a colour to identify the user on the schedule.
Phone - Enter a phone number for the user.
Mobile - Enter a mobile number for the user.
Email Address - Enter an email address either for the user or a central email address to which the login credentials will be sent. The email address is also used when resetting a password and becomes the "reply-to" address when a customer replies to an email sent by the user.
Note: Please ensure the email address is entered 100% correctly, otherwise, the email with the login credentials will not be received.
Financial Information:
Default Billing Rate - This Billing Rate will be used for the staff members timesheet entries, (unless changed on the individual timesheet entry). For more information on billing rates, please see here.
Hourly Rate - Enter either the staff members hourly cost to the company (can include benefits and average overtime factored in) or their hourly rate of pay.
Note: This is the actual cost that is used to calculate the labour component for time spent on a Job by the staff member. It's important to set this to an accurate figure so as not to distort Job profitability.

Additonally, if you've enabled "Generate invoices using job appointments instead of timesheets", Tradify will use this hourly rate to calculate the cost and charge out rate for your "time and material" invoices.
Job Notifications:
Select where you want Job notifications to be sent. The options are either push notifications to the Tradify mobile app or email notifications sent to the email address entered on the staff members record. You can select both options or none if required.
Access Permissions:
Select the level of access you wish the user to have. When choosing the permissions your staff have while using Tradify, this means the user will have access to that entire feature, as permissions are fixed.
Note: The blue checkboxes on the right side indicate what the user can access in Tradify. You can select as many boxes as you like.
No Access - No Access means that the staff member is not granted access to Tradify on any device or computer. Jobs can be assigned and appointments can be scheduled for the user, however, as they don't have physical access, you (or another user with adequate permissions) will need to manually enter their labour and material costs into the system on their behalf.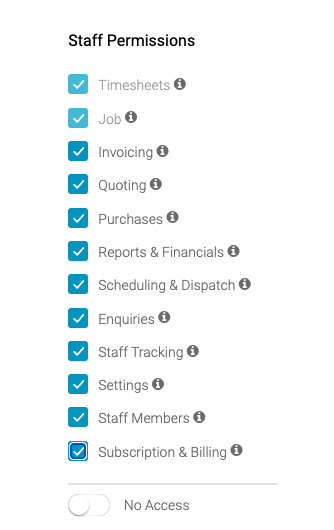 By default, any user (with the exception of 'No Access' users) have access to Timesheets and Job functions. There are more functions that you can select for users, including:
Timesheets
Jobs

This will give users access to all Jobs that they're assigned. Additionally, users will be able to view:


Job
Notes
Forms & Certs
Costs (they can add materials but they cannot see any financial information)
Schedule (they will only see the Scheduler if they have no further permissions)
Job Service Reports

Invoicing

View, create, and edit Invoices and Billing Runs. This permission grants users access to all Invoices, not selected documents.

Quoting

Users can create, edit, and delete Quotes. If a user has Quoting permissions, they can view

all Quotes,

not selected documents.

Purchases

Users can create, edit, and delete Purchase Orders/Bills. If a user has Purchases permissions, they can view

all Purchase Orders and Bills,

not selected documents.

Reports & Financials

This means users can generate reports within Tradify. For more information, check out our Reports section.

Scheduling & Dispatch

Users can view, create, edit, and delete appointments for

ALL

staff in the Scheduler.
Users can view all the Jobs, including Jobs they are not assigned to.

Enquiries

Users can view, create, respond and edit Customer Enquiries. Users will also be able to toggle their notification settings (Push or E-mail) if they have access to this feature.

Staff Tracking

Users will be able to see where the staff are on the Map. Users with this permission enabled can see everyone who has their location settings enabled. For more information on the Map feature, check out Using The Map on Tradify Mobile.

Settings

This permission allows Staff to access and edit Settings for the entire company. Only approved users can access the Subscription and Billing section. If the Settings permission is enabled, users will be able to view and edit Customer Profiles and Settings.

Staff Members

This permission allows you to create, edit and remove Staff Members.

NOTE:

Making changes to your Staff Members may result in your subscription price changing.

Subscription & Billing

This permission allows users to edit your Tradify billing details and subscribe to our additional features.
How does my new user get access to Tradify?
Once you've created a new staff member, Tradify will email them their login credentials, along with instructions on how to gain access to the system.
Important Note: Tradify will send these credentials to the email address that was applied to the new user. If they haven't received their login credentials, please be sure to check the email address is correct.