Learn how you can import work orders, customer enquiries and any other form of work requests into Tradify with Enquiries.
You can either forward enquiries through to a personalised email address or point customers toward a personalised web enquiry form from your website. You will then see these enquiries appear in your enquiry inbox within Tradify, which will include their name, address, contact details and potentially photos or videos of the work.
Setting up Tradify Enquiries
To start using Tradify Enquiries navigate to Settings > Enquiries. You will see some more explanation of what this feature does along with a Start Using Enquiries button.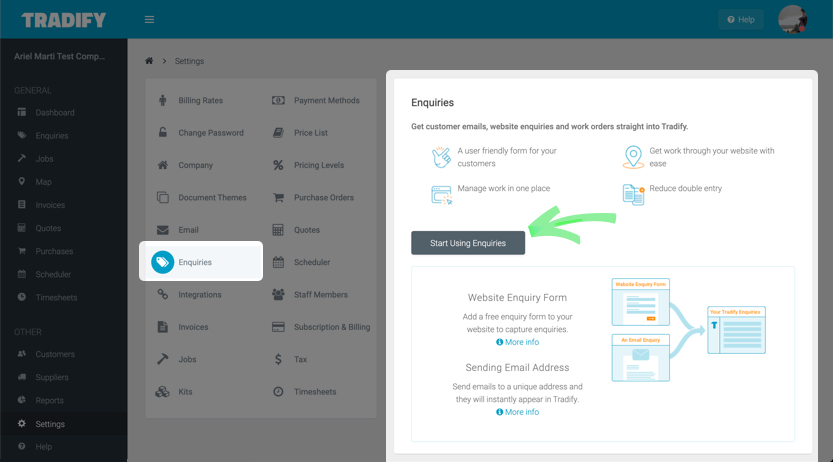 Choosing Web Form Enquiries or Email Enquiries
Select which enquiry types you would like to receive in Tradify. We recommend you give both types a try to get the most out of this feature.
You can easily turn these types on and off individually and at any time meaning you are not locked into anything.
Note: You must have one of these options selected to continue with the setup process.
Setting up your Enquiries
Confirming your Public Profile details: i

n this step, you will be asked to set your Public Profile Name which in turn sets two things - your

Web Form Enquiry Link

and your

Forwarding Email Address.
Web Form Enquiry Link:

where your Web Enquiry Form form lives. You can use this link on your website or social media.

Forwarding Email Address: fo

rward emails to this address to direct them into Tradify.
Note: You will see that your Public Profile Name will appear as a part of this link and email address.

Company Logo:

choose a logo to use on your web enquiry form. This logo will appear at the top of the form which helps your customers know they are still dealing with your business when they land on this enquiry form page.

We recommend using the same logo you use on your website.
Note: Images must be in a .JPEG or .PNG format.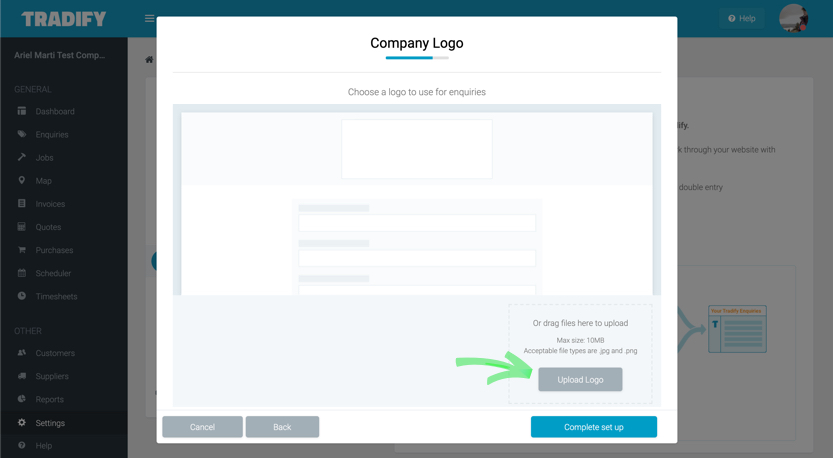 Add the Enquiry Link To Your Website
This step exists to help you enter your link Enquiry Web Form Link into your website. You can create new buttons on your website or replace existing ones.
On this screen, you will see two options - select whichever matches your situation.
Someone else manages my website:
Unsure about how to ask your website manager to add this link to your website? This is a set of pre-written instructions you can send to the person who manages your website.
Example Text
I manage my own website:
Got a website built with Wordpress, WIX, or Squarespace? These links will help instruct you on how to add a link to your new Enquiry Web Form.
Alternatively, if you know what you are doing when it comes to managing your website you can copy your link to then insert it into your website. You can also embed the form as an iframe on a page on your website.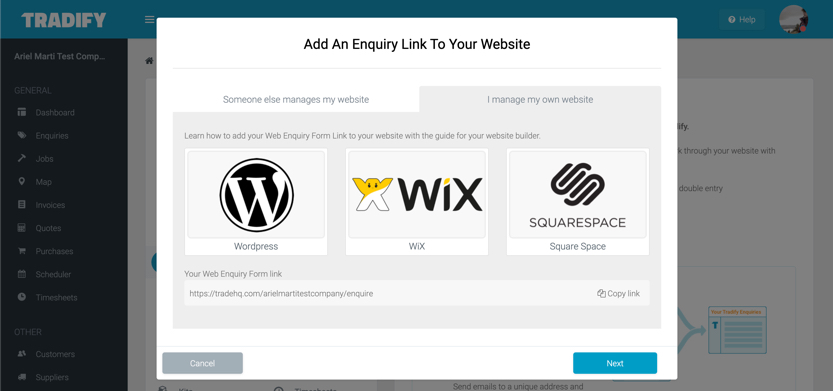 Creating a Forwarding Email Address
Use this address to receive emails that will automatically appear in Tradify as an enquiry.
Make the most of the Forwarding Email Address:
Give it to customers you may receive repeat work or work orders from

Forward emails to it from your current work email address

Use it on enquiry websites like HiPages, Which?, Wedo or Angies List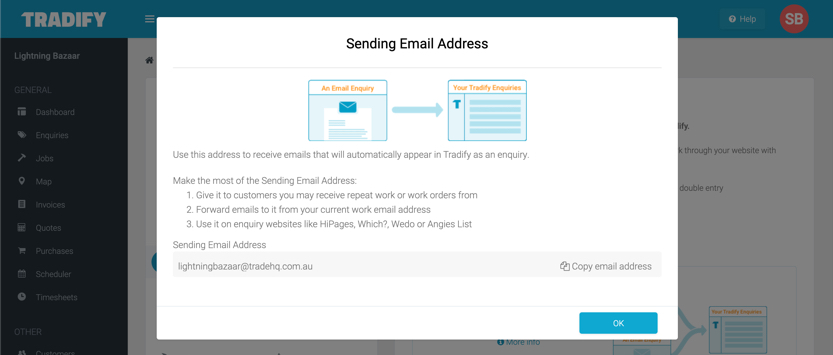 You are set and ready to go! Hit OK to continue.
Setting up Email Enquiries
One way to get your enquiries into Tradify is using your Forwarding Email Address seen in Settings > Enquiries.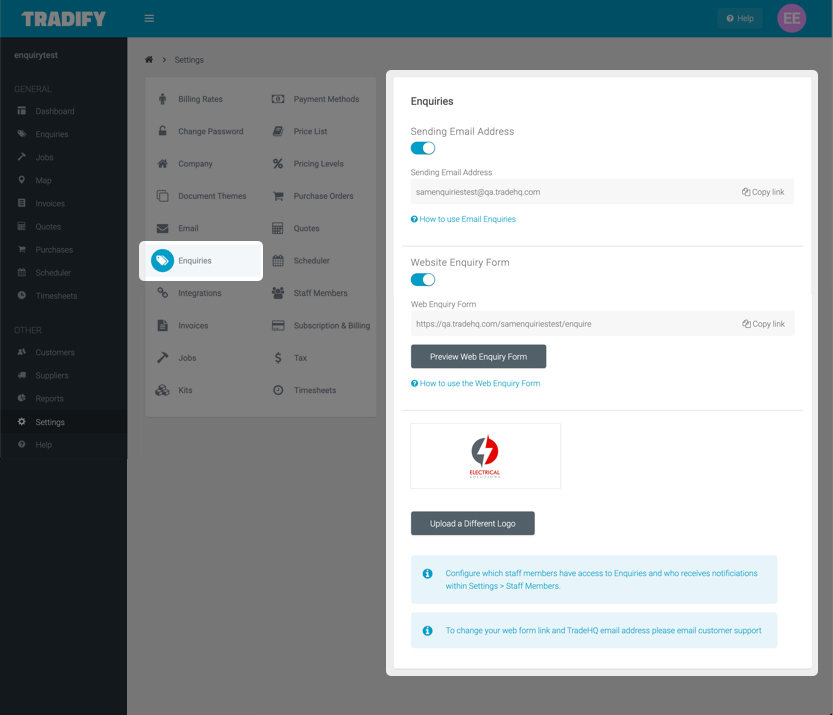 If you need to change this email address, please email support@tradifyhq.com.
All emails sent to your Forwarding Email Address will be converted into an enquiry in your Tradify Enquiries inbox.
Here are a few ways to use this email address:
You can give this address to customers from who you receive repeat work or work orders. They can now send all work orders to this address.

You can forward emails to this address from your current work email address e.g; from Gmail or Outlook.

Use this address on any enquiry websites you use such as HiPages, Which?, Wedo or Angie's List.
When the enquiry appears in the inbox, you can tell it is an email enquiry by looking at the source column.

Using Tradify Web Form Enquiries
You now have your own web enquiry form which you can point your customers to from anywhere you see fit. The most common use case will be linking to this web form through your website with a 'Get a Quote' button (or a button to that effect).


Your web enquiry form will be unique to your company and it will contain your company name and your logo keeping it consistent with your brand.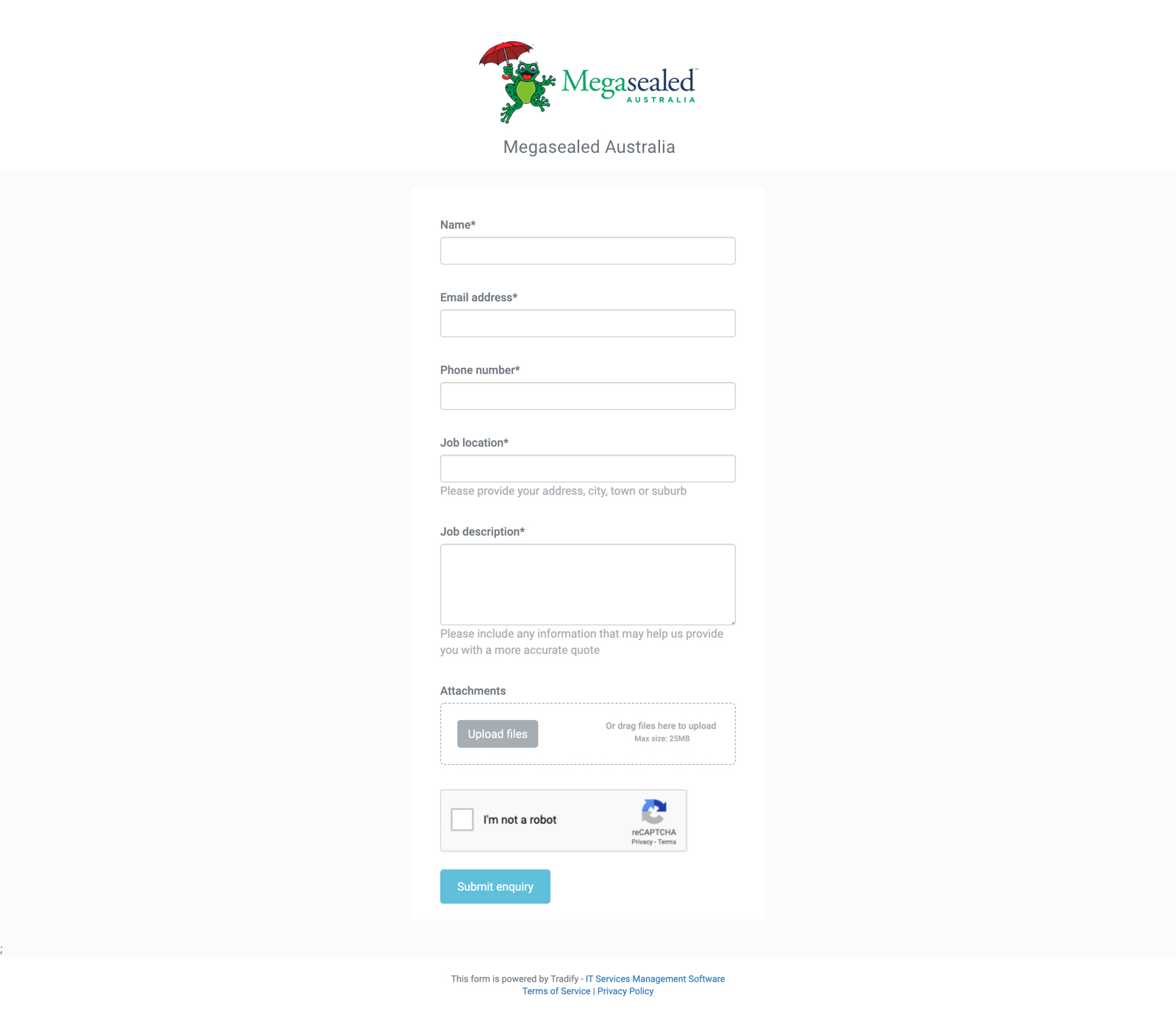 Customers will fill this form out, giving you the necessary information to be able to respond with a quote or any other necessary action.
When the form has been completed by your prospective customer, you will then be immediately notified of this new enquiry allowing you to act as fast as possible.
This notification will take the form of an email, a push notification and a red badge on the Enquiries section of the Tradify App.
Learn more about the types of notifications you will receive and how to configure them.
Adding Web Form Enquiries to your Website
To make use of this web enquiry form you will need to update your website with a new button, or change existing button links.
If you manage your own website, please use the Website enquiry form link shown in the Enquiry Settings screen.
If someone else manages your website, check out what you can send to your website manager here. Make sure to include the Website enquiry form link shown in the Enquiry Settings screen.
It is also possible to embed the form on a page on your website with an iframe.
<iframe src="https://tradehq.com/businessname/Enquire" style="width:100%; height:1050px; border:none; margin:0; padding:0; overflow:hidden; z-index:999999;"></iframe>
Creating a QR Code to link to your Web Enquiries Form
You can simply direct customers to your Enquiries page using a QR Code.
To do this, simply:
From your Dashboard, head to your Settings tab.
Once you're in Settings, select

Enquiries.
Select Preview Web Enquiry Form.
When on the web page, right click on any part of the page and select

Create QR Code for this page.
A preview QR code will appear in the upper-right corner of the page with the link to the Web Enquiry Form. If you're happy with how it looks, select Download.
You will have a .PNG file that you can easily use in promotional material!
Personalising your Enquiries form
If you need to change your business name on your Enquiries form, you'll need to contact support@tradifyhq.com to set this up.
You can enable automatic responses to your enquries in the Settings section of Tradify. To access these settings:
Head to your Settings.
Select Enquiries.
Scroll down and you'll see the Auto Replies toggle, alongside a text field to customise your message if you wish.

Creating New Enquiries
If you have received an enquiry from a customer over the phone or in-person and you'd like to record it in Tradify you can make a new enquiry. To do this, navigate to the enquiries section in Tradify.
Toward the top of the screen, you will see a Create New Enquiry button. Select this, and enter any details you need into the new enquiry.

Your Enquiries Inbox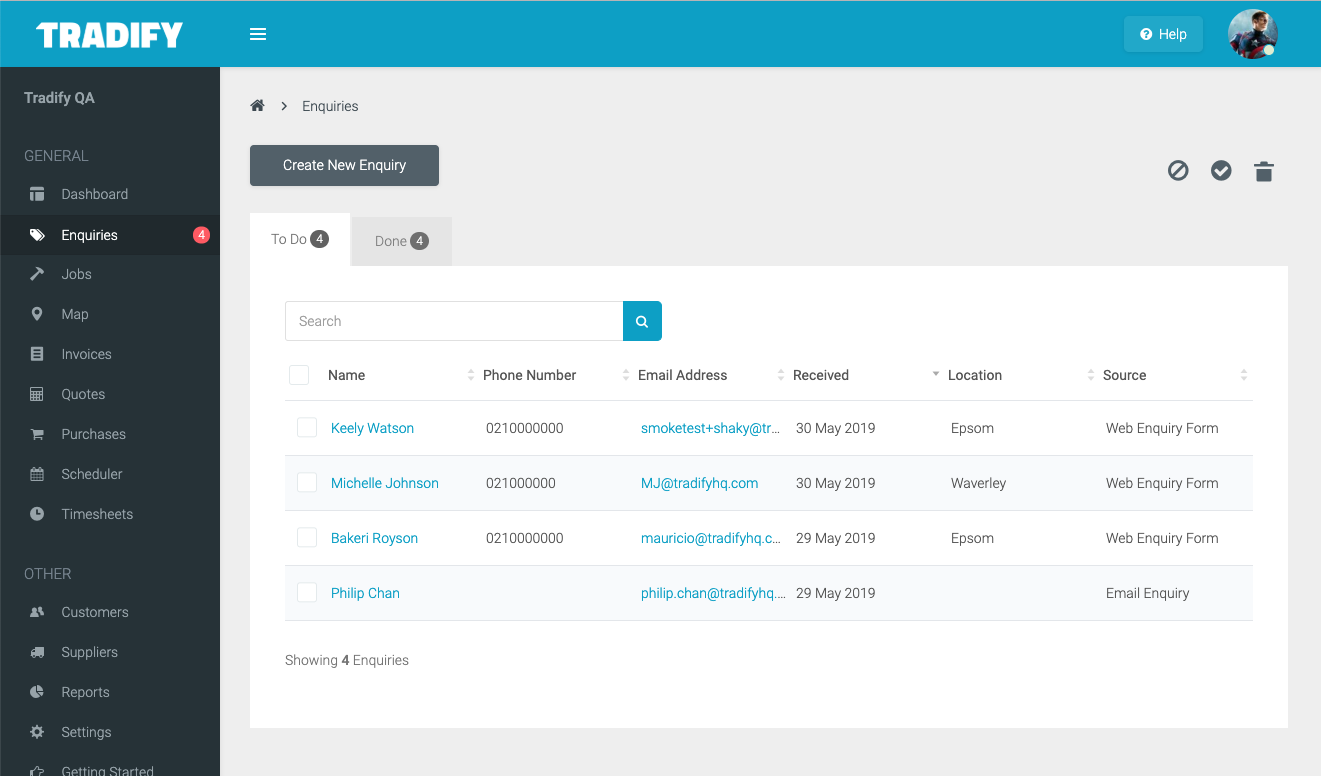 Within the Enquiries inbox, you will see two tabs, To Do and Done. Enquiries will appear in To Do when they are new and unactioned.

You can see information about an enquiry from a glance, with the customer name, number, email address, date received, location and source all visible.

Opening an enquiry allows you to manage the information collected from the Web Form or email. You can also see any attachments that have been collected.