In addition or instead of an enquiries web form, you can set up a forwarding email address for your enquiries.
Creating a Forwarding Email Address
Use this address to receive emails that will automatically appear in Tradify as an enquiry.
Make the most of the Forwarding Email Address:
Give it to customers you may receive repeat work or work orders from

Forward emails to it from your current work email address

Use it on enquiry websites like HiPages, Which?, Wedo or Angies List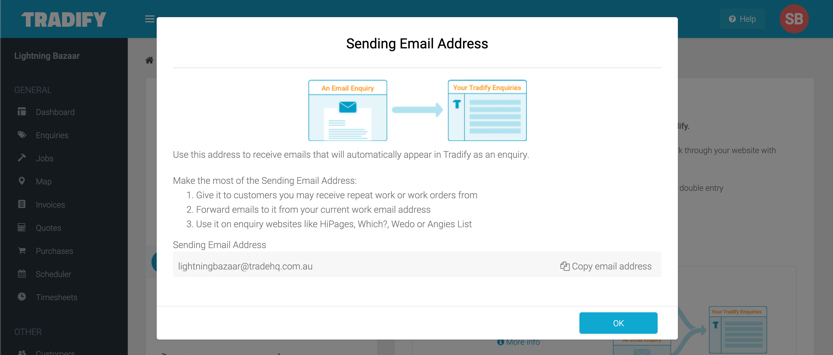 You are set and ready to go! Hit OK to continue.
One way to get your enquiries into Tradify is using your Forwarding Email Address seen in the Enquiries page in your Settings menu.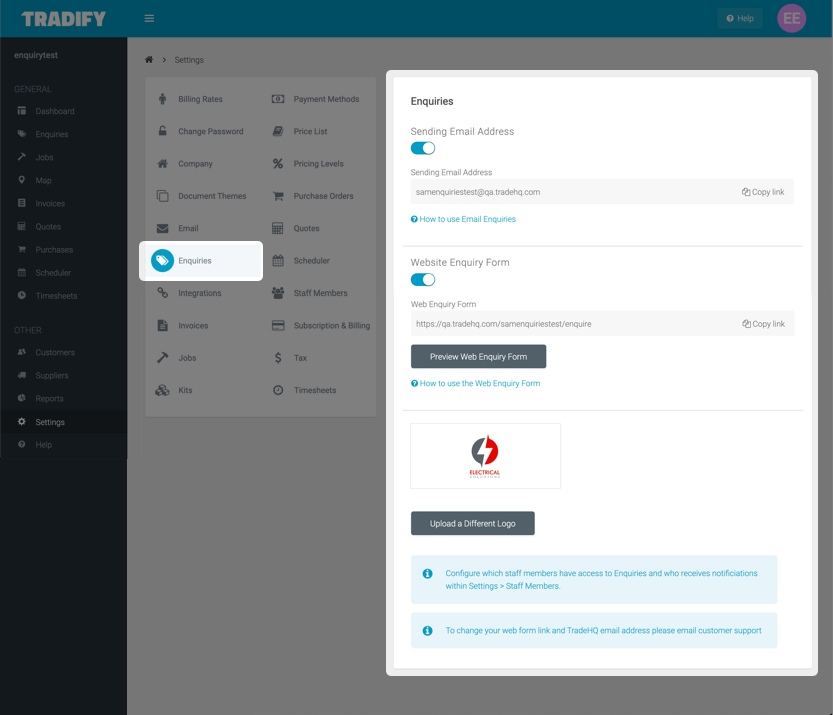 If you need to change this email address, please email support@tradifyhq.com.
All emails sent to your Forwarding Email Address will be converted into an enquiry in your Tradify Enquiries inbox.
Here are a few ways to use this email address:
You can give this address to customers from who you receive repeat work or work orders. They can now send all work orders to this address.

You can forward emails to this address from your current work email address e.g; from Gmail or Outlook.

Use this address on any enquiry websites you use such as HiPages, Which?, Wedo or Angie's List.
When the enquiry appears in the inbox, you can tell it is an email enquiry by looking at the source column.

Your Enquiries Inbox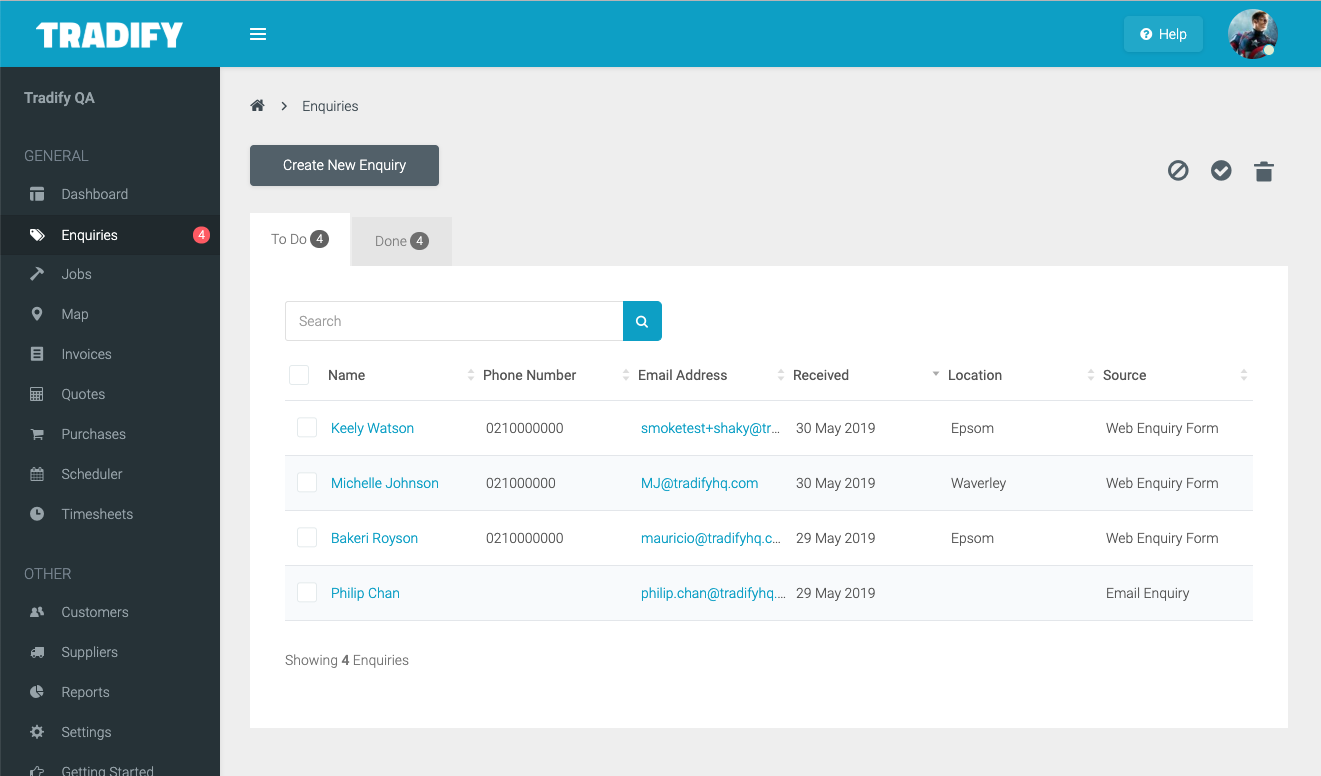 Within the Enquiries inbox, you will see two tabs, To Do and Done. Enquiries will appear in To Do when they are new and unactioned.

You can see information about an enquiry from a glance, with the customer name, number, email address, date received, location and source all visible.

Opening an enquiry allows you to manage the information collected from the Web Form or email. You can also see any attachments that have been collected.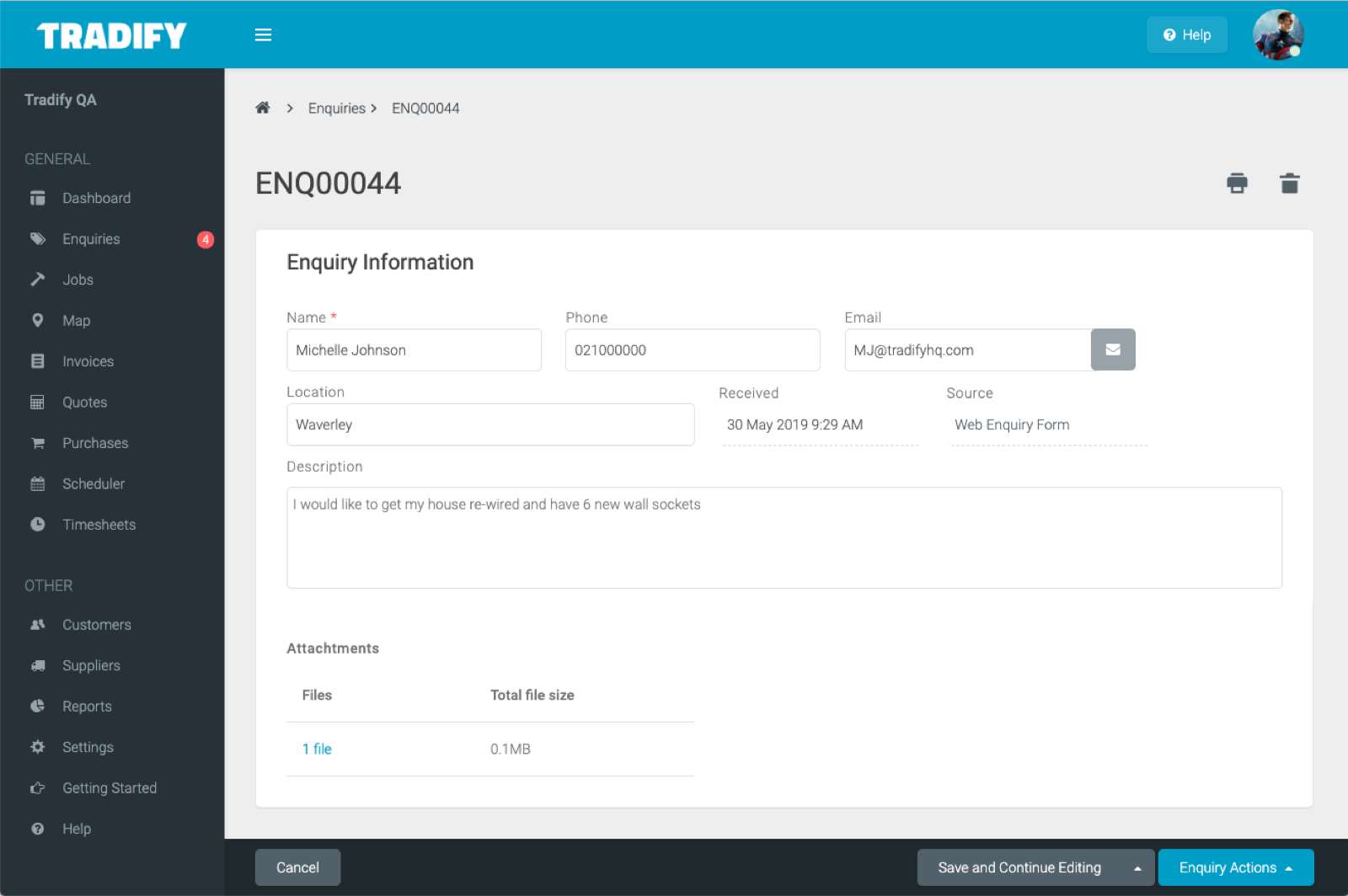 How to solve common issues
My email enquiries are coming in from my own email address, what can I do?
Usually, this happens when you have set up an auto-reply on your email. To do this, check out the following help guides:
Additionally, you may find that having the enquiries sent directly to the Tradify forwarding email instead of redirecting these from your personal email first.