Learn more about Pricing Levels and how these work in Tradify. If you have multiple customer groups with different pricing structures, Pricing Levels can be used to set a standard pricing structure for each individual group.
Once the pricing level has been created, it can be allocated individually to each customer record. This then determines the selling price of materials and/or labour charged on a Job for that customer.
While the Pricing Level defaults from the customer record, it can also be changed on the Job, Quote, and/or Invoice.
Note: Tradify is setup with a Default Pricing Level called Standard. If you want to use the same prices for all customers, there is no need to create additional Pricing Levels.
Adding a new Pricing Level
To add a new Pricing Level, head over to Settings, click on Pricing Level and then select "New Pricing Level". Enter a description for the Pricing Level in the Display Name field and then enter a Markup percentage.
Important Note: The Markup percentage will be used to calculate your sell prices on price list items and billing rates that are using the pricing method "Calculate price using buy price + markup". If you have pre-existing items and billing rates, you will need to update their respective sell prices for any new Pricing Level created.
Setting your default Pricing Level
The Default Pricing Level will be assigned to new customer records as the default. This will then flow through to the Job, Invoice, and/or Quote created against the relevant customer.

To change the default Pricing Level, head over to Settings and click on Pricing Level. Under Default Pricing Level use the drop-down to select your preferred option and then click "Save" to finalise your changes.
Deleting a Pricing Level
To delete a Pricing Level, head over to Settings, click on Pricing Level and then select the X icon on the right-hand side of the Pricing Level you wish to delete.
Note: Pricing Levels cannot be deleted if they have already been used on an Quote, Job, Invoice or assigned to a customer. For this reason, it's recommended to use the "archive" function (covered in the following section).
Archiving a Pricing Level
Archiving a Pricing Level will subsequently remove it from being used or seen throughout Tradify. You'll be able to see your archived pricing levels in your Pricing Levels settings.

To archive an existing Pricing Level, head over to Settings and select Pricing Levels. Next, click on the relevant Pricing Level and then select "Archive this Pricing Level", followed by "Save".
Assigning a Pricing Level to a Customer
In Tradify, you can assign a default pricing level to a Customer. To do this:
Head to your Customers tab.
Select your Customer.
In their profile, scroll down in the Information section to Financial Information.
In the Pricing Level drop-down menu, select your desired pricing level.
Select either Save and Continue or Save and Exit.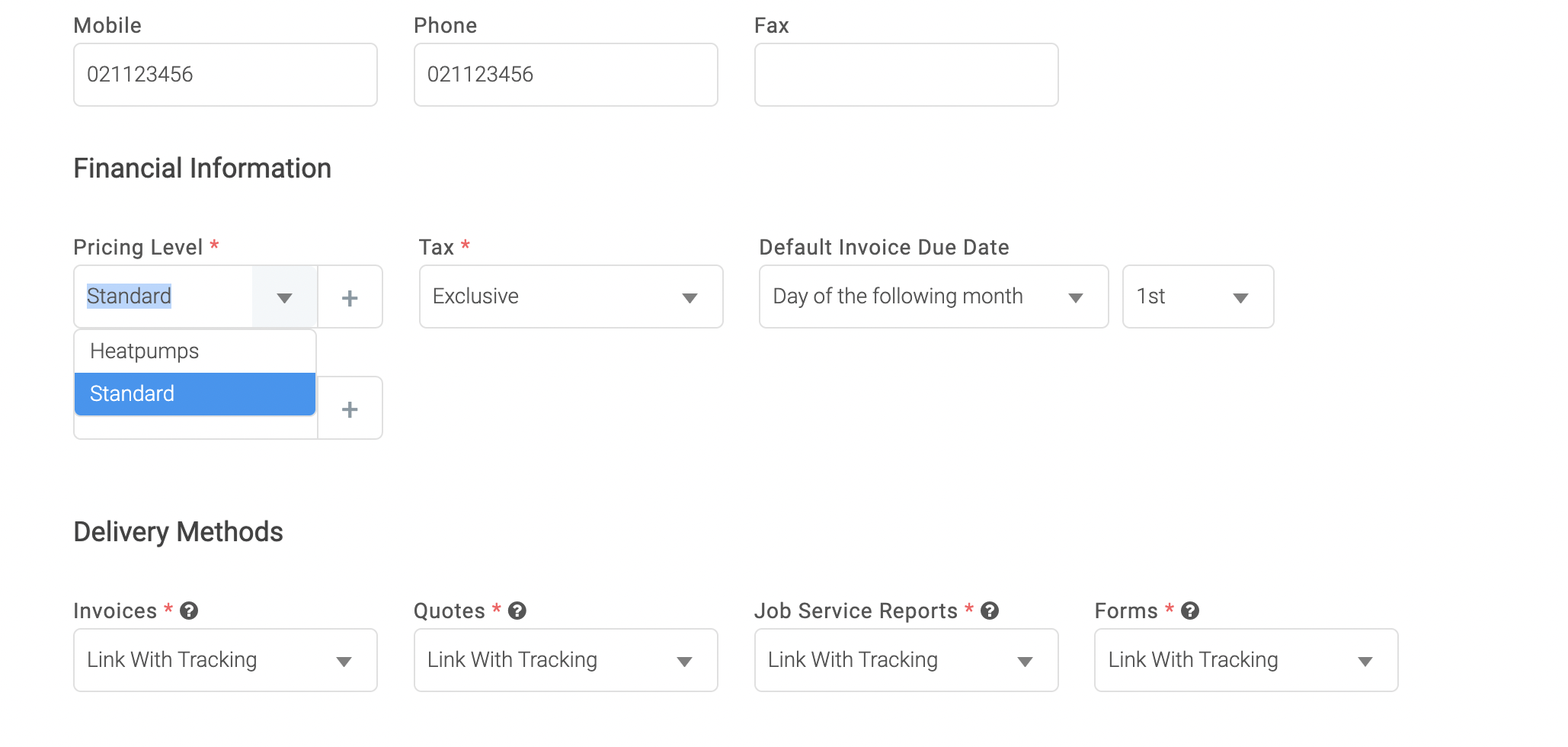 Note that this will be the default pricing level. You can change this within your documents to adjust the pricing levels according to the job you're completing for a customer.
All you'll need to do is change the pricing level in the information fields. The example below is an Invoice but this can be applied to various other areas of Tradify.