In Tradify, you can create and edit pre-defined emails, which you would send to customers at various points of a Job's journey.
Forget the hassle of typing out individual emails whenever you need to send out Quotes, Invoices, Purchase Orders and Job Service Reports.
Email Templates
To access your Email Templates, head over to Settings on the Web App and then select Emails. By default, Tradify comes with four standard Email Templates:
Invoice
Purchase Order
Quote
Job Service Report
As the names suggest, these are the Email Templates that are used when emailing an Invoice, Purchase Order or Quote from the system.
You're welcome to edit these to your preference. To do so, just click on the relevant Email Template name.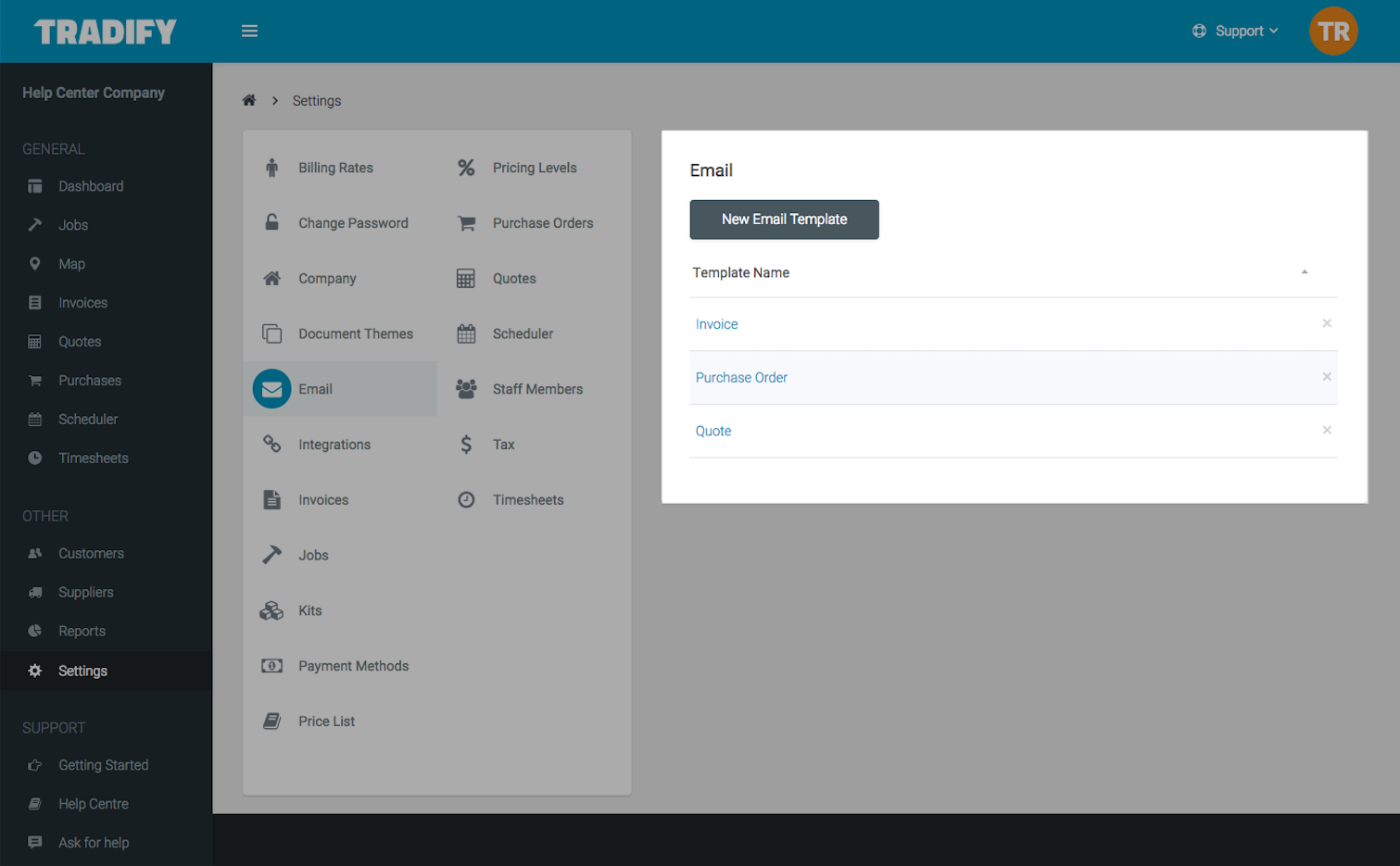 Adding a new Email Template
To create a new Email Template, head over to Settings, select Emails, then select "New Email Template". Add the relevant details and then select "Save".
Note: For the purpose of this video, we've left most of the options blank and instead listed a comprehensive overview of each option below.

Template Name – Input a display name for your Template.
Note: This is for internal viewing only and is not customer facing.
Cc – Use this field to add Cc (carbon copy) email addresses. Cc addresses will pre-populate onto any email created from this template.
Bcc – Use this field to add Bcc (blind carbon copy) email addresses. Bcc addresses will pre-populate onto any email created from this template.
Subject – Use this field to add a subject line for your template.
Message – Use this field to input the message you'd like to state to your customers.
Note: The Message and Subject fields are customer-facing.
Adding links to Email Templates
You can add links to your email templates. You may want to do this if you want to add links to review forms or other calls to action.
To add a link:
Copy your URL.
Highlight the text you want to become the hyperlink.
Use your keyboard controls to copy and paste the data (CTRL/CMD + C for copy and CTRL/CMD + V for paste) into your email template.
Using images as links in Email Templates
Although Tradify doesn't actively support images in the template, there is a workaround that can be used to achieve the desired result. In order to utilise this workaround, you must have the image hosted on a website that Tradify can pull from. This can work for adding in accreditation logos to your customer-facing communications.
Locate the image on the existing web source.
Right-click on the image and select "copy image".
Head into Tradify and navigate to the email template.
Place the cursor in the email template text field and use the keyboard hotkeys to paste it in (i.e. Ctrl + V, or command + V).

Please note that using the mouse to right-click -> paste will not work in this instance.
Using Template Variables
Template Variables are fields that are dynamically substituted when the corresponding text is entered.
For example, if you wanted the Invoice Number to automatically appear in the Subject Line of an email, you can achieve this by using the corresponding variable.
Note: Template Variables can either be used in the Subject Line or within the body of the message itself. These variables are hardcoded into the system, which, unfortunately means, custom variables cannot be created for use.
To see a list of available variables, open up your template and then select Want to use template variables?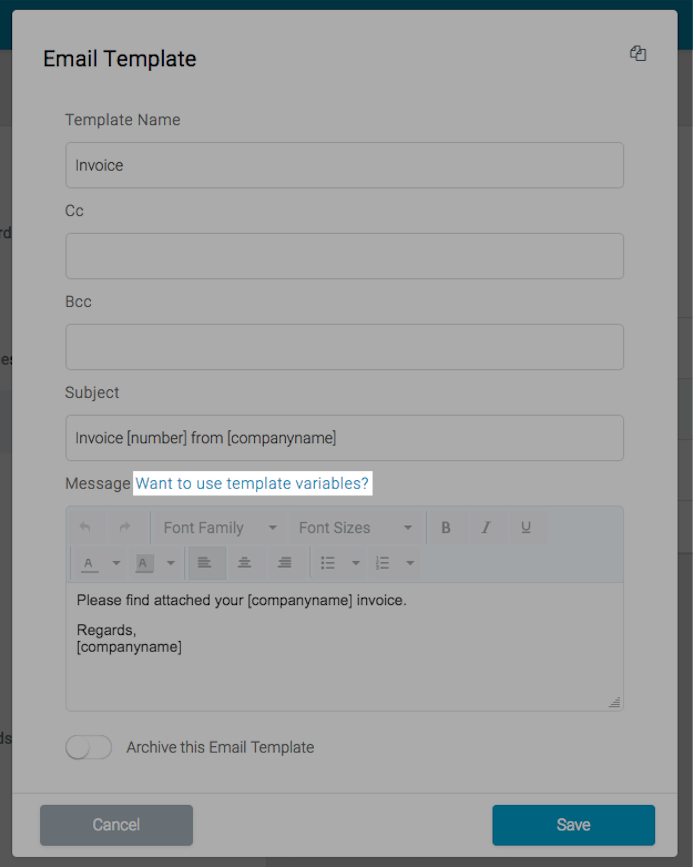 The following variables will be shown: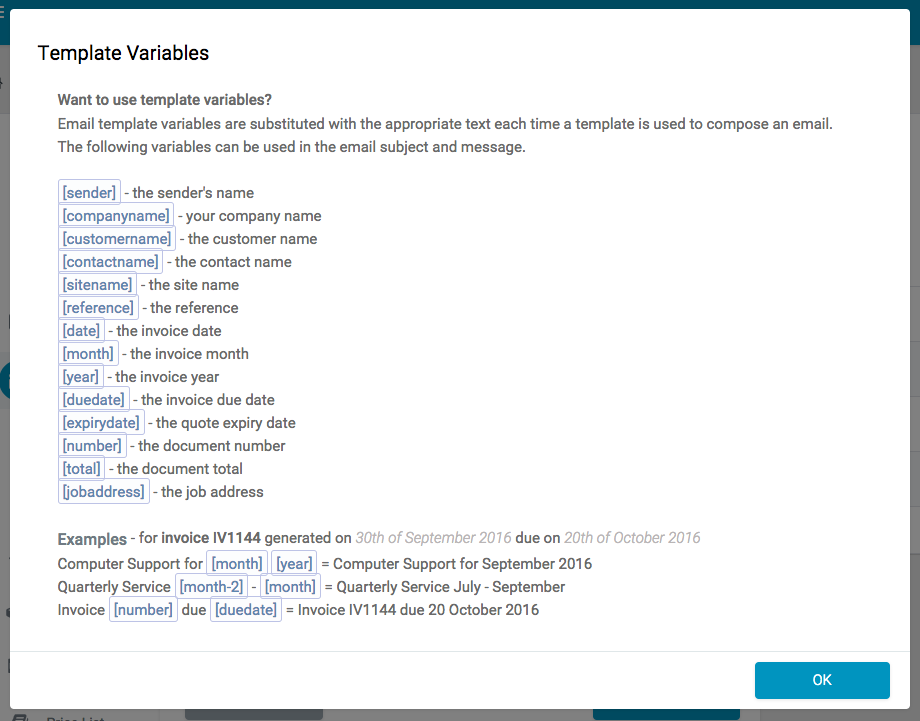 With regards to the examples above, notice how in the second example you can calculate a value by using basic 'add' and 'subtract' methods.
Using this method will allow you to render the desired value. i.e. [month -2] = current month - 2 months. In the example above, September is the current month, therefore, the value returned is "July".
Deleting an Email Template
To delete an Email Template, head over to Settings, click on Emails and then select the X icon on the right-hand side of the template you wish to delete.
Note: Email Templates cannot be deleted if they have already been used on a Quote, Job, Invoice, Purchase order, Bill, or if it's assigned as a default email template on a customer or supplier. For this reason, it's recommended to use the Archive function.
Archiving an Email Template
Archiving an Email Template will subsequently remove it from being used or seen throughout Tradify.
You will still have visibility of it within Settings and also within historical records, but it won't show as an option anywhere else.
To archive an existing Email Template, head over to Settings and select Emails. Next, click on the relevant template and then select "Archive this Email Template", followed by "Save".