A Kit is a collection of materials, labour and/or miscellaneous costs that, when combined, make up an item that can be added to any quote. Using Kits speeds up the quoting process by making it easy to select one master item instead of entering multiples items individually.
To add a Kit to your Quote:
Select the 'Kit' button on the line item button row (within the relevant quote)

Use the search field under Kit to add the relevant Kit to your Quote.

Note: You can also create new Kits from scratch. To do so, click the + icon located on the right-hand side of the kit search field.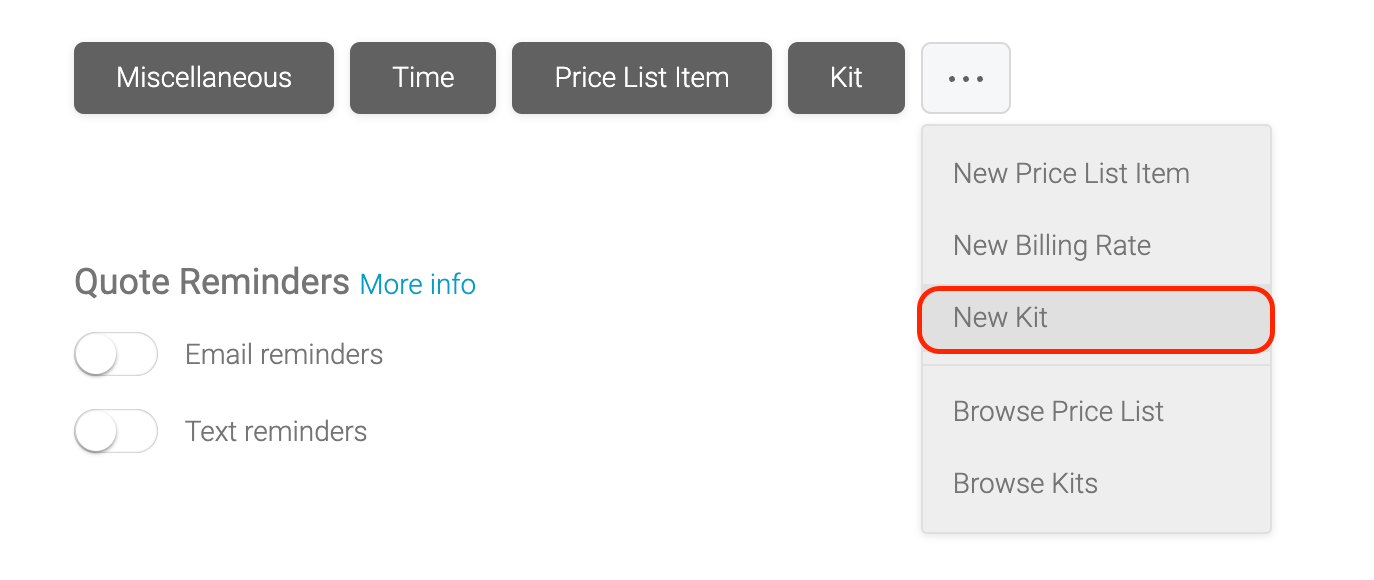 The fields listed below will be available to edit when adding a Kit:
Description – Can be amended to include information specific to the Kit or Quote. Descriptions are limited to 200 characters.
Quantity - Use the quantity field to increase or decrease the quantity of the Kit.
Unit Cost – Use this field to change the buy/cost price of the Kit.
Unit Sell Price - Use this field to change the sell price of the Kit.
Discount % - Use this field to provide a percentage discount to this Kit.
Gross Profit - Tradify will automatically calculate the gross profit for you.
Amount - Tradify will automatically calculate the amount total for you as well. This is based off your quantity multiplied by your unit sell price.
Section – Sections provide a way to break your quote up into different stages. This makes the Quote more functional for yourself and easier for your customer to read.
Important Note: Kits are exclusive to quotes. They cannot be used within Jobs, Invoices or Purchase Orders, however, you can transfer the line items of a Kit over to each of these features.
For details on setting up and/or configuring Kits, please see here.
Other Relevant Articles