Learn more about how to export your timesheet data from Tradify into MYOB. Streamlining your trade business's payroll processes with your job management makes it easier to track hours worked and your profits.
By streamlining your payroll processes with Tradify's integration with MYOB, you can:
Save time by exporting timesheet data quickly and easily.
Reduce errors by ensuring the accuracy of the data exported to MYOB.
Improve efficiency by eliminating the need to manually input timesheet data into MYOB.
For more information on how this works, check out MYOB's guide to importing timesheet data.
How to export your timesheet data to MYOB
Go to the Timesheets tab in Tradify.
Select the Options dropdown menu and click on Export Timesheets to File.




Open your .CSV file and ensure that the data is correct.
Make sure your file has a header row with mandatory fields such as Employee Co./Last Name, Payroll Category, Date, Units, and Employee Card ID.
Log into MYOB and select your business name.
Choose Import and Export Data, then click on the Import tab and select Timesheets for the Data type.
Click Browse and locate the import file, then click Open.
Finally, click the import file to initiate the import process.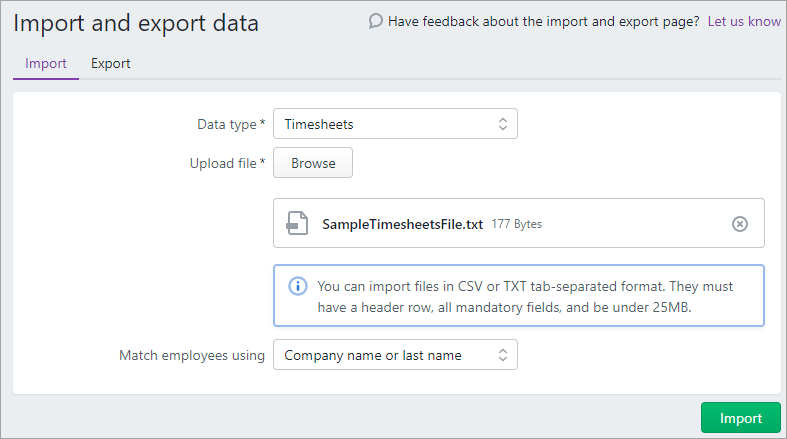 What do the mandatory header rows mean?
MYOB has a specific set of header rows that must be used when exporting and importing timesheet data. Check out what these mean below.
Employee Co./Last Name: This is the staff member's surname (there is a maximum character count of 30).
Employee First Name.
Payroll Category: This is the MYOB pay item (billing rate) to record hours against. You use a separate line in the file for each pay item.
Date: The date the time is logged against.
Units: The daily hours worked for each pay item up to 11 numbers, including 2 decimal places. Enter part hours as a decimal of hours. For example, 30 minutes would be 0.5 hours.
Employee Card ID: The MYOB Employee number that is assigned to the staff member. To find this in MYOB, go to Payroll, then Employees. Open the employee's record and it will be in the Contact Details tab.