Disclaimer: Unlike our other accounting integrations, the ability to customise certain workflows is reduced with MYOB Essentials due to limitations in their API (Application Program Interfacing Tool). MYOB Essentials' integration is therefore limited to customers and customer invoices. It is not able to send bills, nor link suppliers.
Part of completing the link between Tradify and MYOB Essentials involves mapping your default accounts in order to post revenue and payments received to MYOB.
In this article, we will cover off the three default account code selections to map in Tradify. These are Sales of Labour, Sales of Materials, and Bank Account.
Important Note: As far as Tradify is concerned, there is no right or wrong way to map these accounts. It's entirely up to the end user on how they want this information sent to MYOB. If you are unsure at all, please contact your accountant or bookkeeper for additional advice.
Sales of Materials and Sales of Labour Accounts
Tradify uses these accounts to post revenue or income which is basically derived from labour and materials (as they appear on customer invoices).
These two accounts must be mapped to either a sales or income account type in MYOB. The default account codes for these account types will usually range between 4-100 to 4-9999 as well as 8-1000 to 8-9999, unless they have previously been altered in MYOB.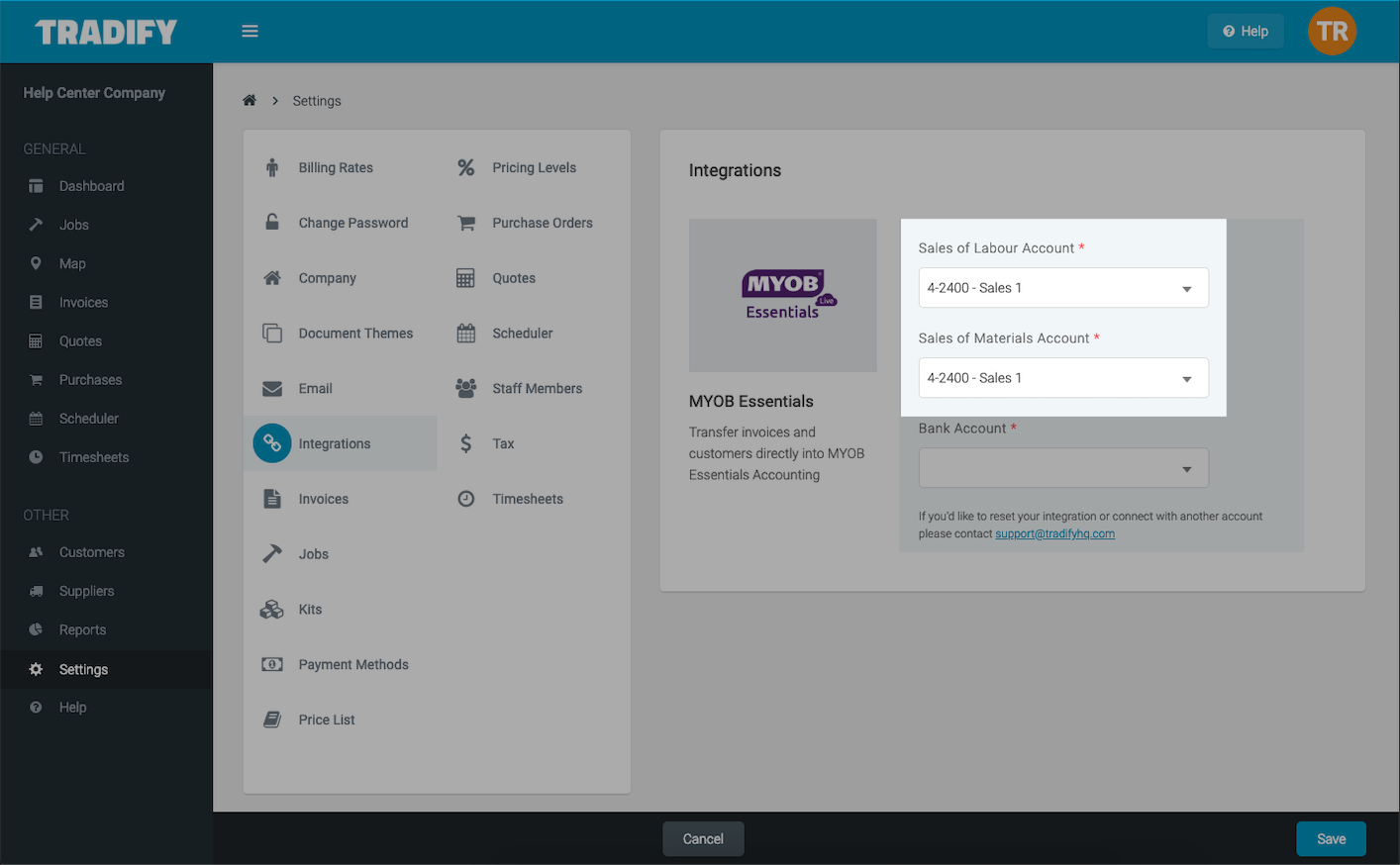 In the example shown above, we have mapped our sales of materials and sales of labour accounts to 4-2400 - Sales 1. If we were to post invoices to MYOB Essentials, both our labour and material line items will be posted to 4-2400 - Sales 1.
Bank Account
Tradify uses this account to post payments received from customers (as they are applied to invoices created in Tradify). The account selected here must be a bank account.
In the example below, we have mapped ours to the 1-1000 - Cheque account. If we were to post payments to MYOB (on an invoice), these would be posted to the 1-1000 - Cheque account.