Within Quotes settings, you have the ability to configure your Quote numbering sequence and Default Expiry Date.
To access your Quote settings, head over to Settings and then select Quotes.
Quote Number Prefix – The text used at the front of Quote numbers. This field can be left blank if you don't want to use a Quote number prefix.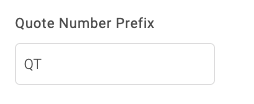 Next Quote Number – The next available Quote number to be used by Tradify. This defines the Quote numbering sequence for Tradify. All following Quote numbers will continue in numerical order from this point.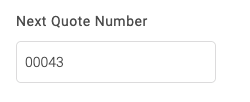 Default Expiry Days – The Expiry Date for new Quotes.

Note: The Expiry Date gets calculated off the Quote creation date.
Toggling options
In Tradify, you can also select the following toggles:
Allow customers to accept quotes online: this allows customers to accept quotes from within the Quote webpage link sent to them.


Allow customers to decline quotes online: this is the same as above but enables the decline feature.


Send email reminders: this sends timed email reminders to customer to accept the quote. For more information on quote reminders, check out Turn on Quote Reminders.
You can also change the default message sent out with quote reminders. Note that the maximum character count is 220.