Learn more about importing Customer profiles into Tradify through an external .CSV file.
If you need assistance with converting Excel files (XLSX format) to a file Tradify can read, check out Microsoft's help article here.
Importing Customer lists into Tradify
To import Customers into Tradify:
Head to your Customer tab.
In the upper-right side, select Options
Select Import Customer From File.



Select your .CSV file for uploading.
Select whether your .CSV file has a header row or not.




Now, Start Matching your data.
Drag and drop your selected fields (if needed).




Select Import Customer File.
Your data will now pre-populate new Customer profiles in bulk, provided the .CSV file is formatted correctly.
What fields are mandatory?
When importing customers, you'll see the below fields. The only field that is mandatory is Customer Name.
Customer Name
Contact Name
Phone Number
Mobile Number
Fax Number
Email Address
Physical Address Street
Physical Address City
Physical Address Region
Physical Address Postal Code
Physical Address Country
Postal Address Street
Postal Address City
Postal Address Region
Post Address Postal Code
Custom Fields (there are four of these)
Pricing Levels
Document Theme
Amounts
Archived
Exporting Google Sheets into a .CSV file
You can easily create .CSV files to import from Google Sheets.
To do so:
Open your Google Sheet.
Select File.
Select Download.
Select the Comma Separated Value (.CSV) file type.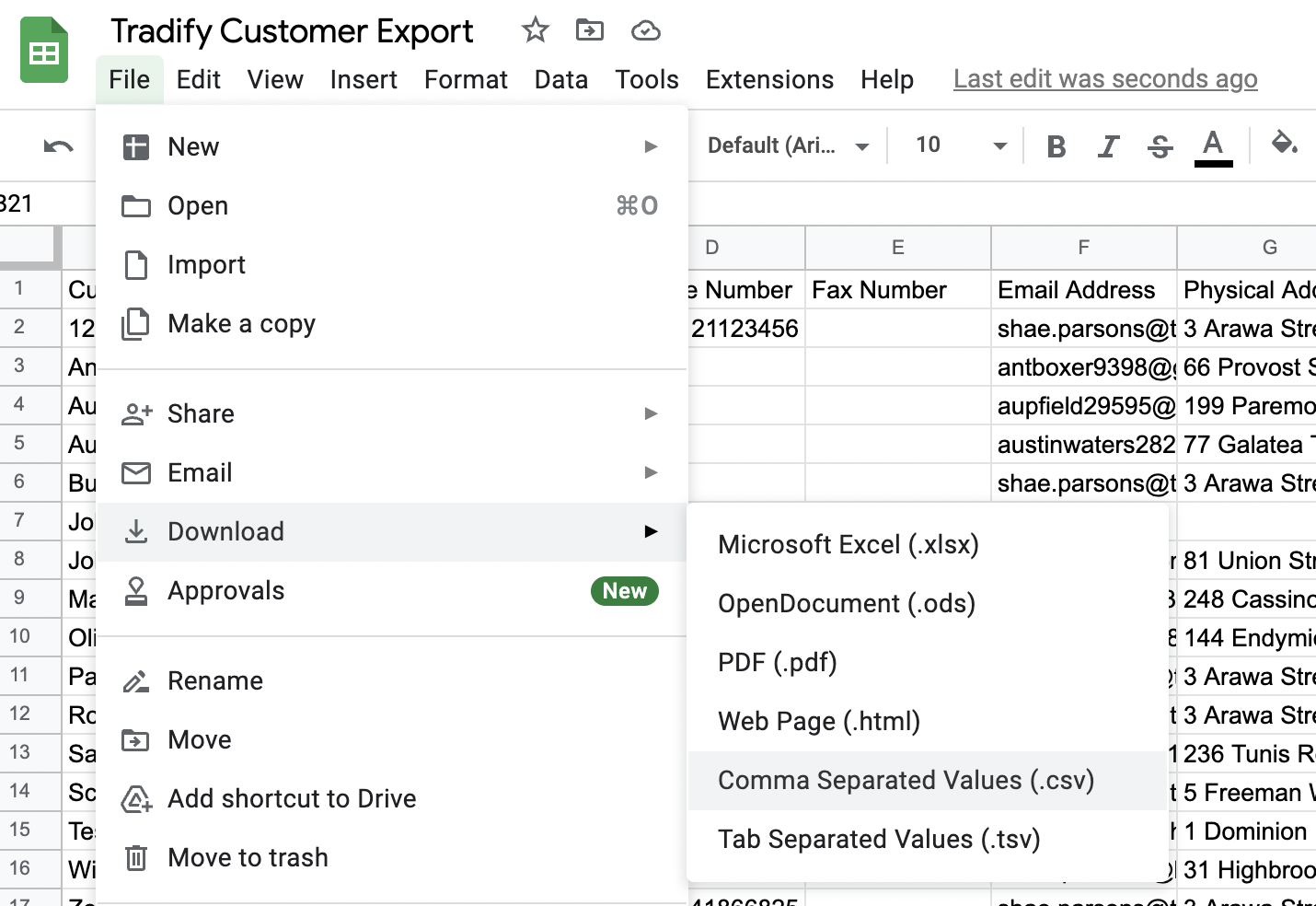 Now, you'll be able to re-import this file into Tradify to automatically build customers.