Understand how to email Invoices from Tradify's web app. Tradify offers a simple service where you can send documents directly from our system with tracking.
For information on how to send your invoice emails as a PDF without tracking, check out Viewing and Printing PDF Quotes.
Note: Tradify offers the ability to setup and use preconfigured email templates to help speed up the emailing process. For more information on email templates, please see here.
Emailing an Individual Invoice
To email an invoice:
Head over to the Invoice Dashboard
Open the relevant Invoice.
Click the Email icon (upper right corner).
Edit the fields as required.
If you'd like to send yourself a copy, select Send me a copy.
When you're ready, select Send.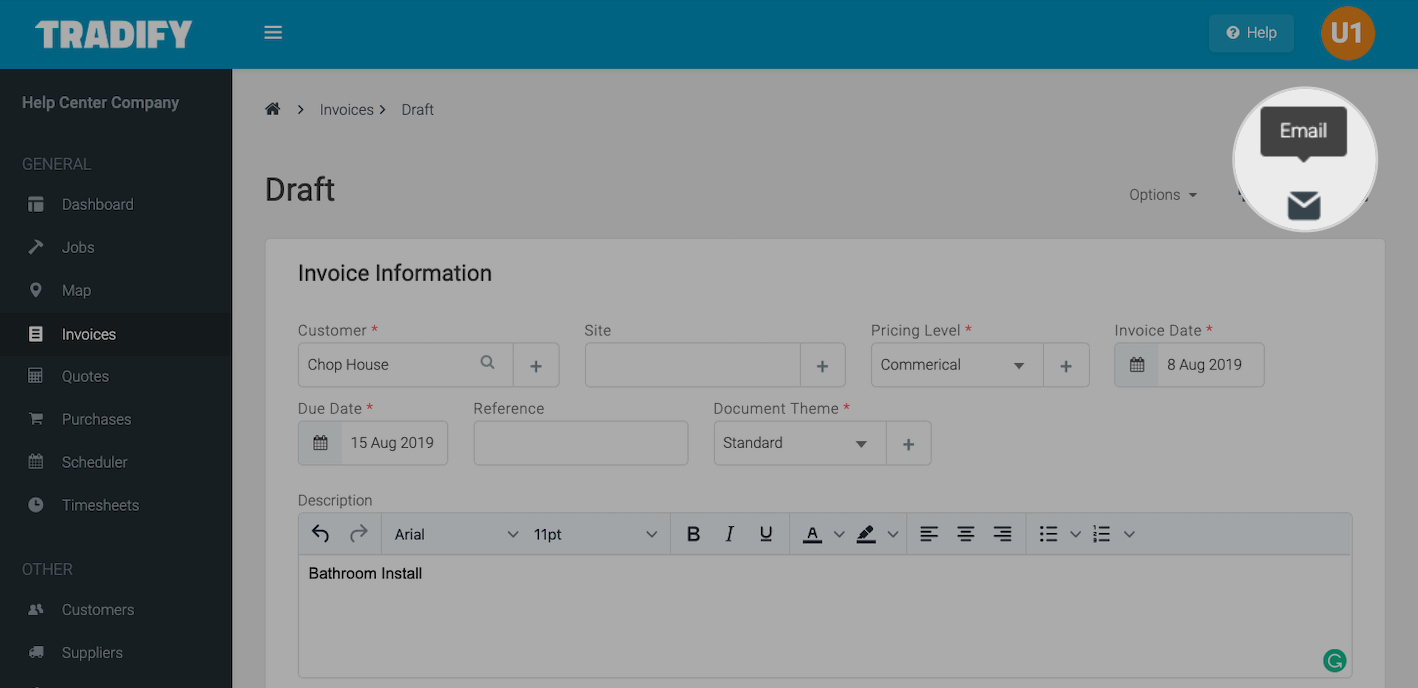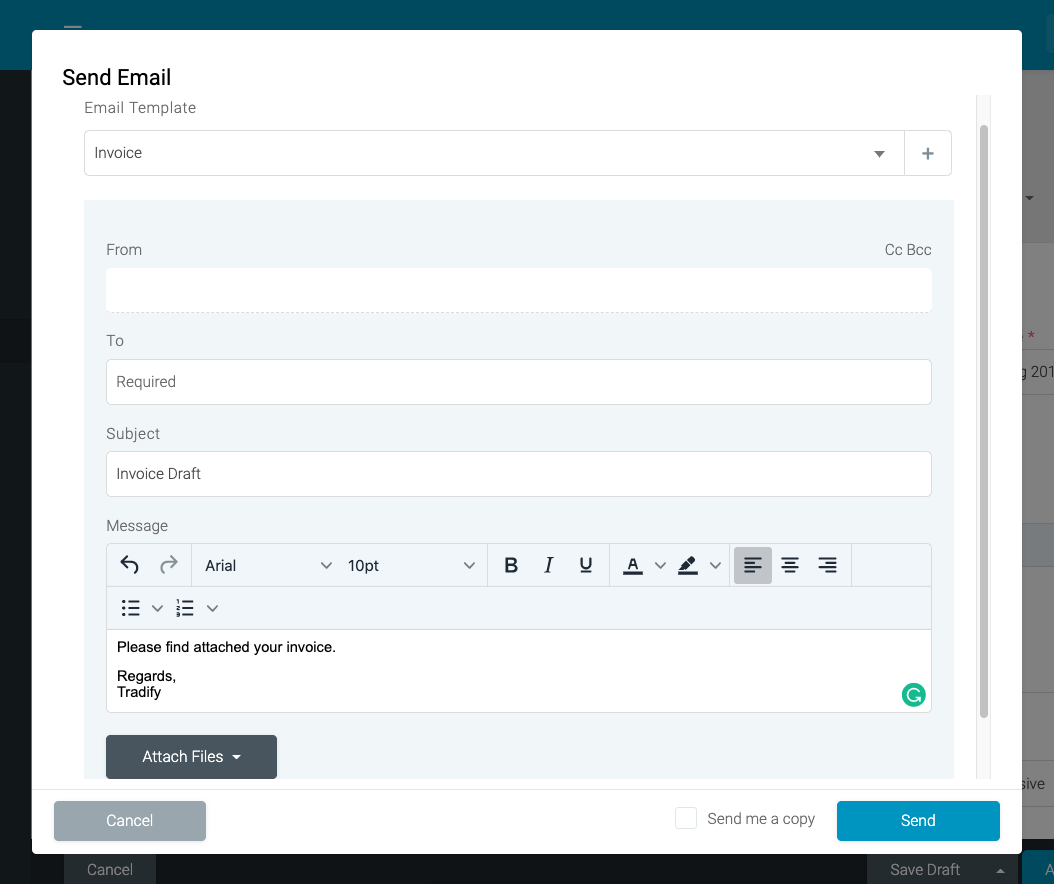 Bulk Emailing Invoices
To send multiple Invoices:
Head to the Invoice Dashboard.
Search and highlight your chosen Invoices.
Select the Email icon.
Edit the fields as required.
If you'd like to send yourself a copy, select Send me a copy.
When you're happy, select Send.
Important Note: You can email multiple invoices for multiple customers in one go. The only thing to note is that you'll need to use the same email description for the lot.

If you'd like to personalise specific parts of the email description, then you can do so by including invoice variables. More on this can be found in the next section of the article.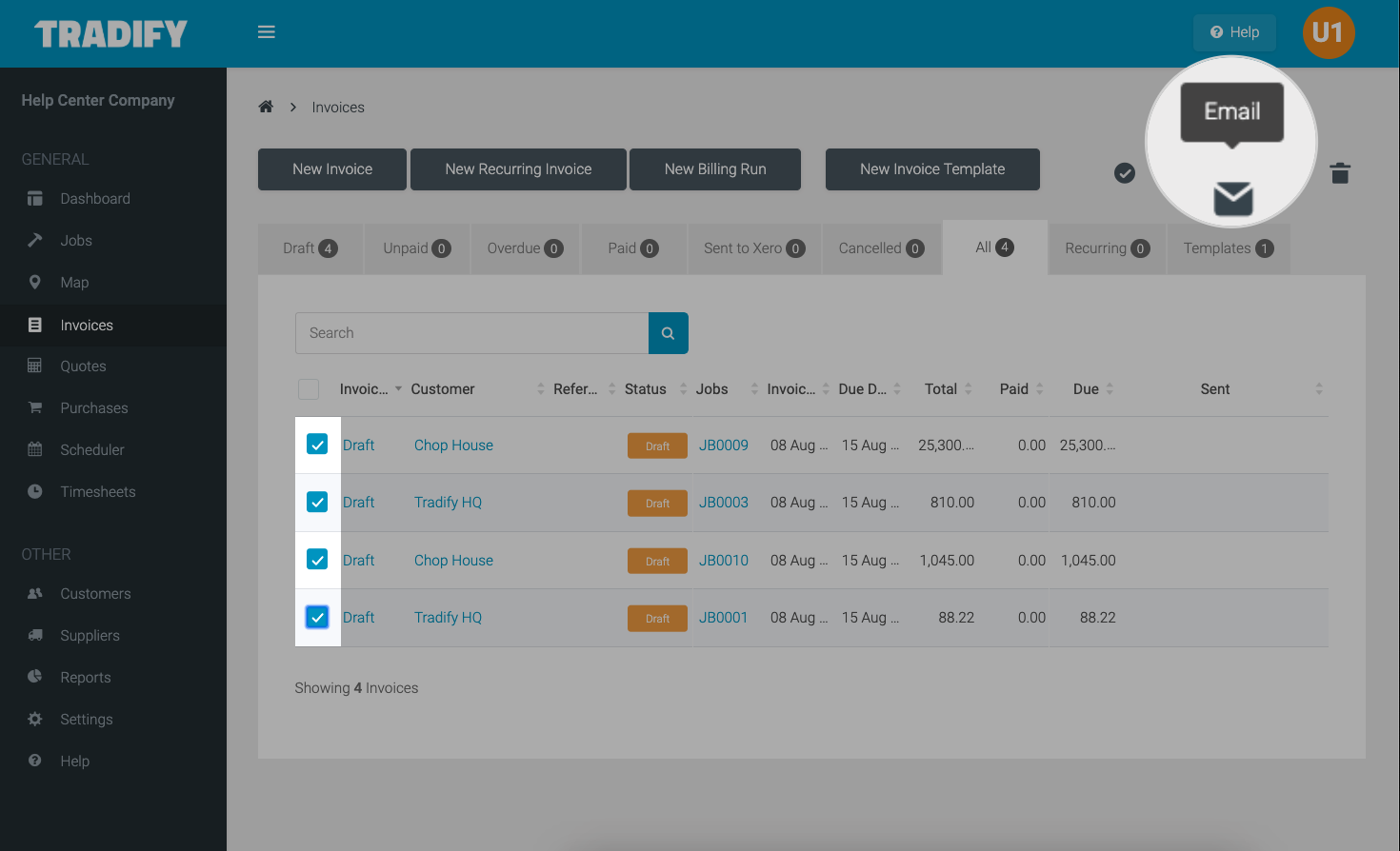 Important Note: Please ensure that your customers have a valid email address associated with them. In the screenshot below, we show two separate customers. Chop House and Tradify HQ.

Chop House doesn't have an email associated with their customer record, whereas Tradify HQ does. Notice how Tradify HQ has this displayed in the image below.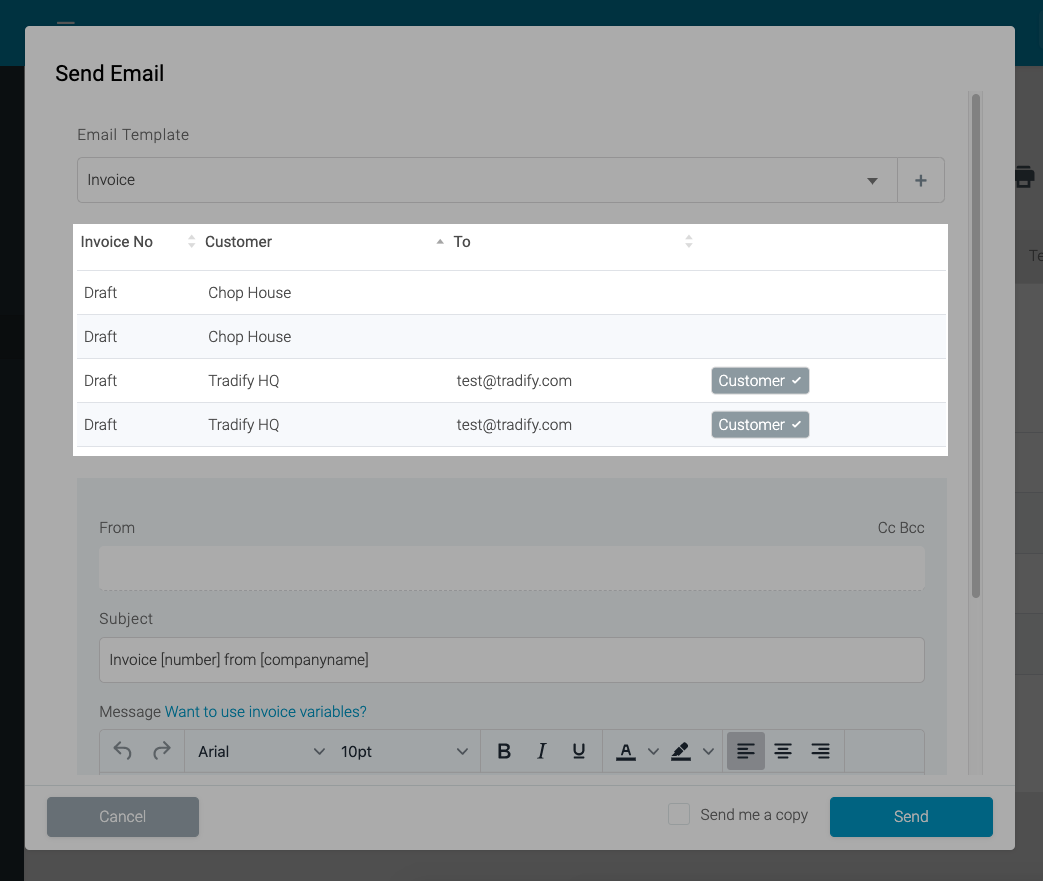 Using Template Variables
Invoice Variables are fields that are dynamically substituted when the corresponding text is entered.
For example, if you wanted the Invoice Number to automatically appear in the Subject Line of an email, you can achieve this by using the corresponding variable.
Note: Invoice Variables can either be used in the Subject Line or within the body of the message itself.

These variables are hardcoded into the system, which, unfortunately means, custom variables cannot be created for use.
To see a list of available variables:
Open up your template and then select Want to use template variables?
Use your desired Invoice Variables.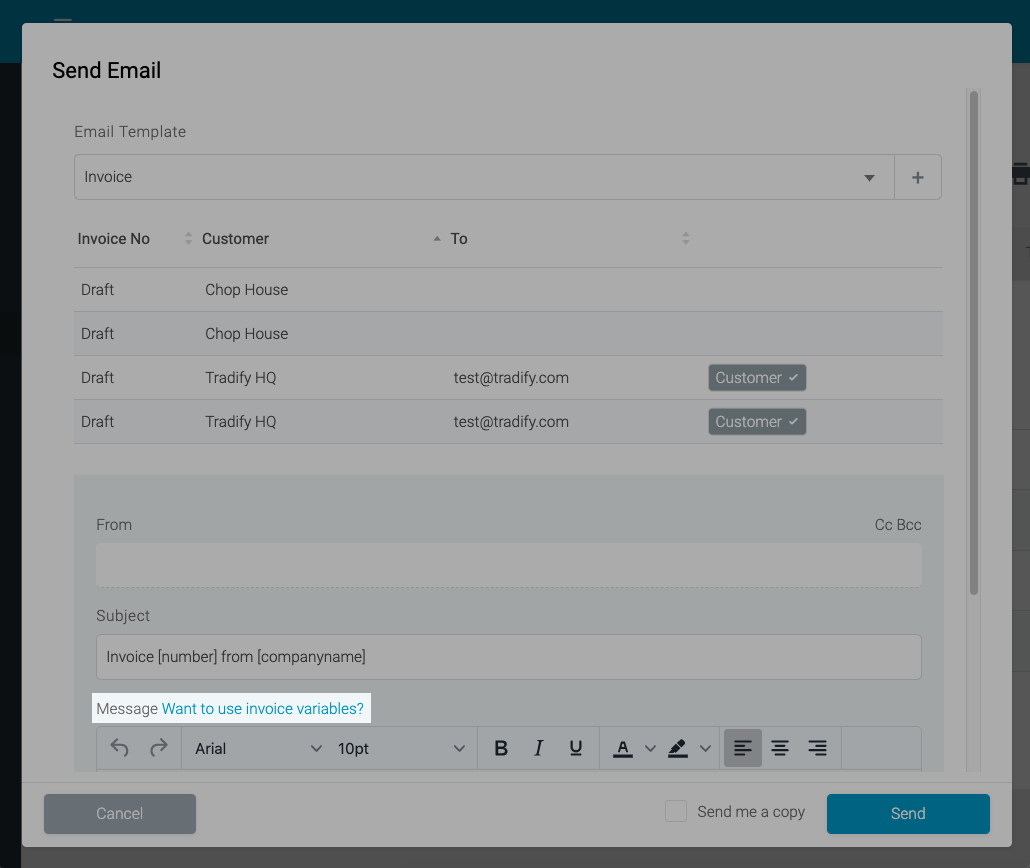 The following variables will be shown: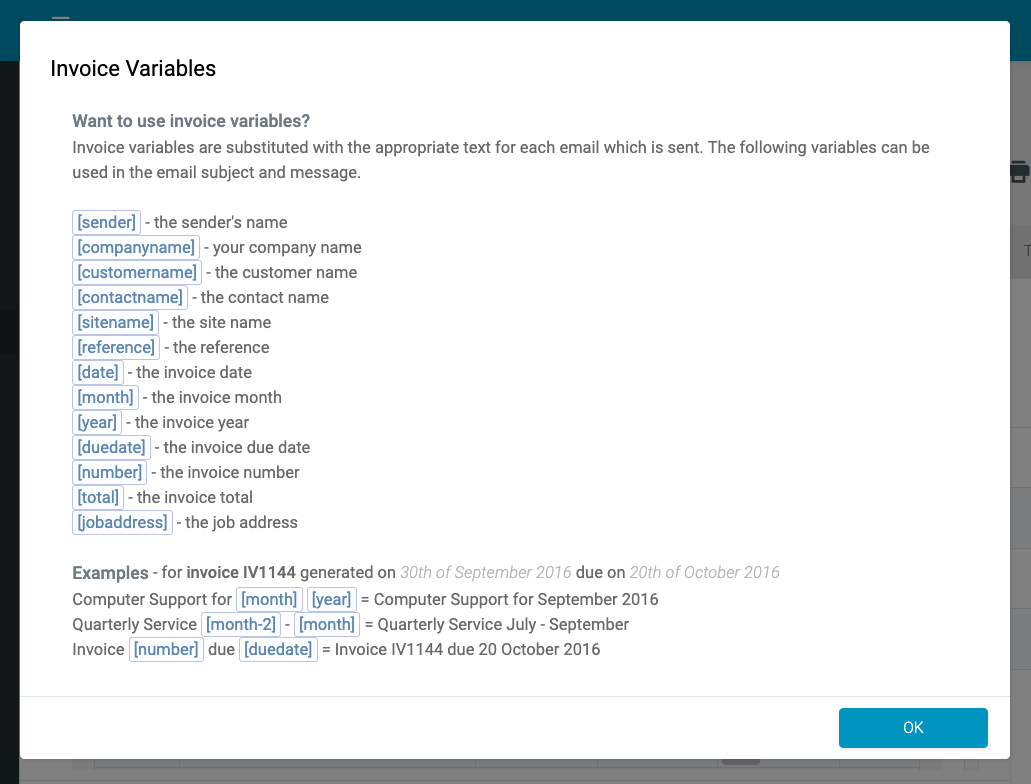 With regards to the examples above, notice how in the second example you can calculate a value by using basic 'add' and 'subtract' methods.
Using this method will allow you to render the desired value. i.e. [month -2] = current month - 2 months.
In the example above, September is the current month, therefore, the value returned is "July".
Online Invoices & PDF Options
Tradify lets you wave goodbye to PDF invoices getting out-of-date or trapped in spam filters, by sending a simple link for customers to follow to view the most up-to-date invoice online.
This link also lets you track emails and see when the customer has viewed the invoice. You can see who has done what and when via the activity log at the bottom of each invoice.
If you happen to have a customer who can not access the internet, and can only accept invoices when directly attached as a PDF to an email, then you can change their invoice delivery method to include the PDF without any tracking.
To do this:
In the Customers section, find the customer you want to change.
On the Information

tab, scroll down to the

Financial Information

section.

Here you will find the Invoice Delivery Method

setting.

Select

Link & PDF Without Tracking.

Select

Save.
Any future invoice email will now include a link and a PDF. If they use the link you will still be able to see their activity, but you won't be able to see if they open the PDF.