Learn more about scheduling your subcontractors using Tradify.
Looking to learn more about using subcontractors in Tradify? Check out How To Work With Subcontractors in Tradify.
Want to know how subcontractors can be added to Jobs? Check out Using Tradify Jobs To Work With Subcontractors.
Scheduling appointments for a Connection
To add a connection from the Scheduler:
Head to your Scheduler.
Click a slot to create an appointment.
Select the + button where you normally assign staff. Enter your Connection's name or email address.
Select the Job and any other relevant details, then select Save.
Once scheduled, an email will send to your connection. When your connection has accepted your invitation, an appointment email will include the following details:
The Tradify customer's name, address and contact details.
The date and time of the appointment.
The Tradify Job Number (note this is specific to the Tradify account scheduling this appointment).
The customer's Site address (if applicable)
Any notes included in the appointment (this does not include photos or other external files such as Job Notes).
The tasks associated with the Tradify Job.
What a Tradify Connect appointment email looks like to your connection.
Once assigned, you'll notice the two different icons next to your connections:
A Pending Connection will have an email icon on their initials.
A Connection has a network icon on their initials.
A Pending Connection needs to accept the appointment to become a standard Connection.
Within the Scheduler, your appointments will also vary in appearance according to status:
A white modal box with a coloured border means the appointment is pending.
A full-coloured modal box means the appointment was accepted by the Connection.
A red modal box means the appointment was declined by a Connection.
You can filter your scheduler to only view appointments with Connections. To do this, simply select and de-select the ticks next in the Staff & Connections tab on the Scheduler.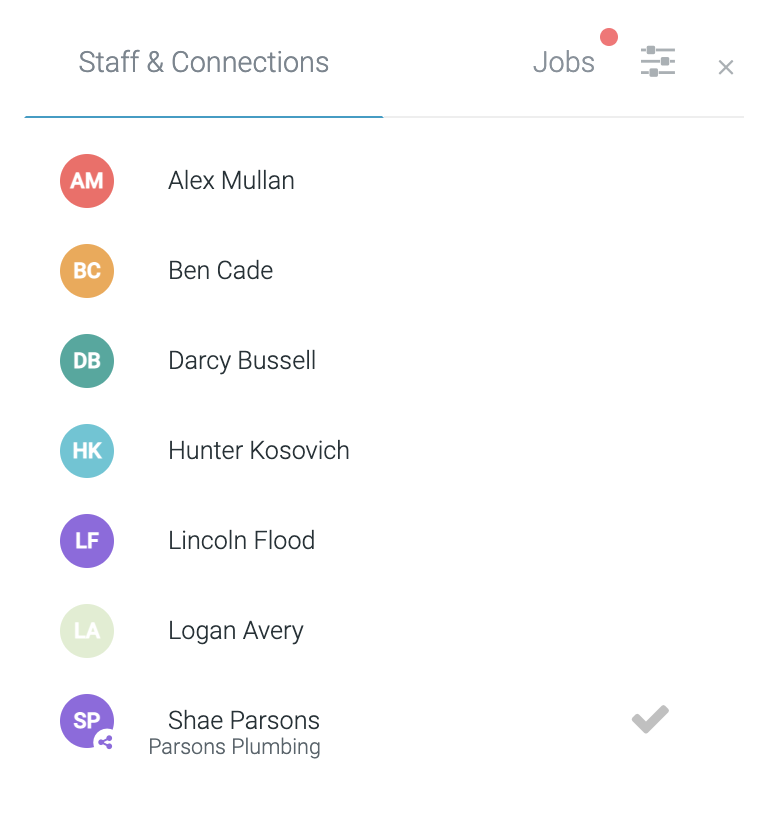 Filtering your Tradify Connections and staff members in the scheduler.
Understanding appointment reminders
You can enable automated reminders for your Connections if they haven't confirmed an appointment. You can either send an email or in-app notifications, which are fixed and are sent at a fixed time according to your Connection's time zone.
Your notifications will send at fixed times to both pending or confirmed Connections:
If the appointment was created within a timeframe of 48 hours or greater, you will receive an email like the below image at

8am in their local time.




If the appointment is within 48 hours or less, your Connection will receive an email like the below image at 8am in their local time.

Your Connections will also receive an in-app push notification outlining they need to respond to their appointment request.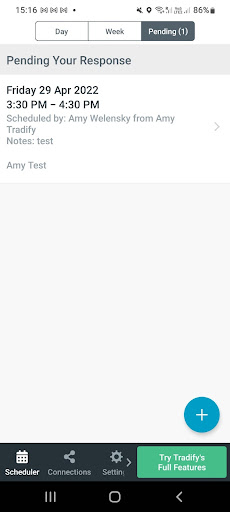 Accessing your appointment if you're not a Tradify user
If you are not currently using Tradify and you have been scheduled for an appointment, you'll need to sign up for a free Tradify account. Check out How To Use A Free Tradify Account for more information on how to use this account.
Alternatively, you can start a free 14-day trial which will give you the full Tradify experience.
Please also note that you will not be able to use the Timesheets feature if you're on the free version of Tradify. You'll need to start a trial or upgrade your account to proceed.