The job financial report shows important financial information about your jobs. You can use the job financial report to identify where you may be losing money, maximizing job profitability and/or improving quote accuracy.
There are two ways to view a job financial report in Tradify. You can do so by opening the relevant job, or by using the reporting function. We'll cover off each method in the article below.
Viewing a singular Job Financial Report
Note: We recommend using this process for viewing individual reports. If you're wanting to view reports for multiple jobs, we recommend using the second method.
To get to the job financial report for a particular Job, head over to the Job Dashboard > open the relevant job > then select the "Options" tab > followed by "Job Financial Report".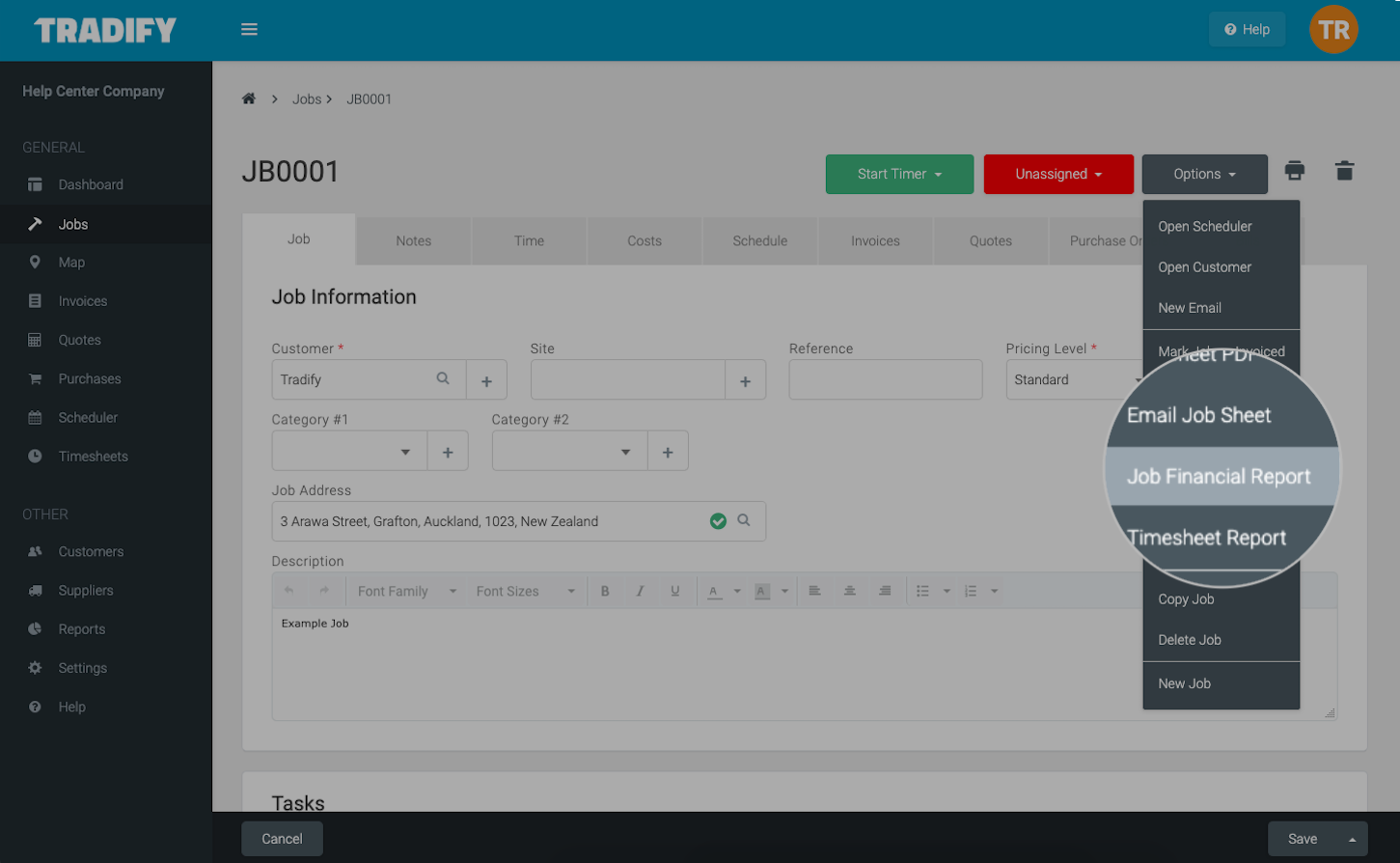 Viewing multiple Job Financial Reports
Note: We recommend using this process if you're wanting to view multiple reports at once. If you're only wanting to view one individual report, we recommend using the first method.
To view multiple reports at once, head over to Reports > select "Job Financial Reports" > then, choose your filters and select "Download" to compile your reports.
Note: Below is a detailed list of what each filter represents.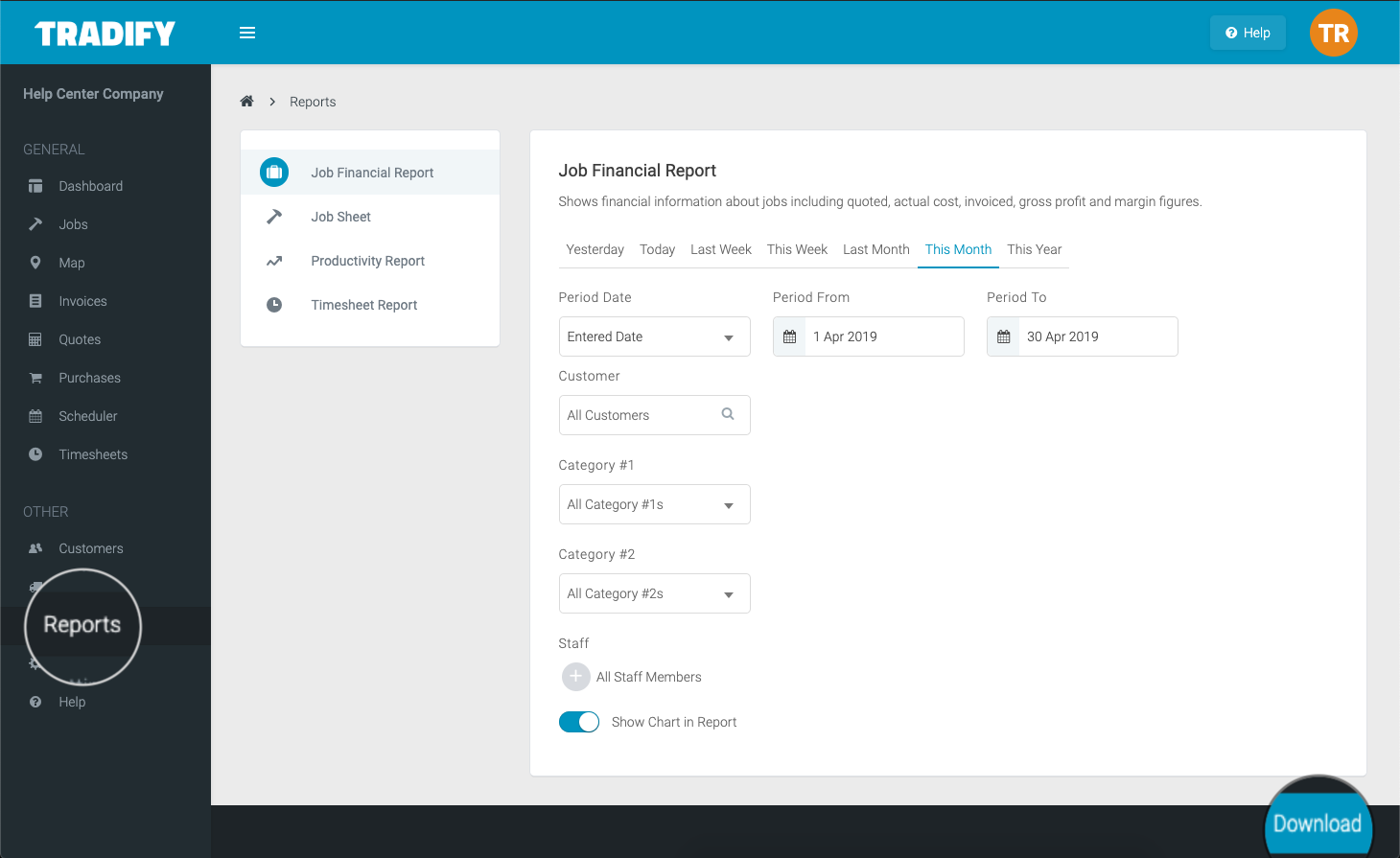 Time-period Taskbar Picker - As the names in the taskbar suggest, you use these to filter reports by specific time periods. The time-periods are set to Yesterday, Today, Last Week, This Week, Last Month, This Month, & This Year.
Period Date - You can either choose to filter by the "Scheduled" date or by the "Entered On" date. "Scheduled" relates to when the job was first scheduled. Whereas, "Entered On" relates to when the job was created.
Period From & Period To - Choose the appropriate date range based on the Period Date.
Customer - Choose a specific customer, or leave black to apply to all customers.
Category fields - Filter by a specific category, or leave blank to apply to all.
Staff - Click the + icon to select specific staff members which jobs have been assigned to. Otherwise, leave blank to apply to all staff members.
Show Chart in Report - Enabling this will show a graph breakdown on each report. Disabling it will remove the graph from view.
Understanding the Job Financial Report
The Job Financial Report is broken down into the following 3 sections:
1) Cost breakdown - Detailed cost breakdown of Time and Materials (along with a combined figure of both).
2) Visual breakdown - Visual graph relating to the cost breakdown.
3) Total - Totals are shown at the bottom of the report.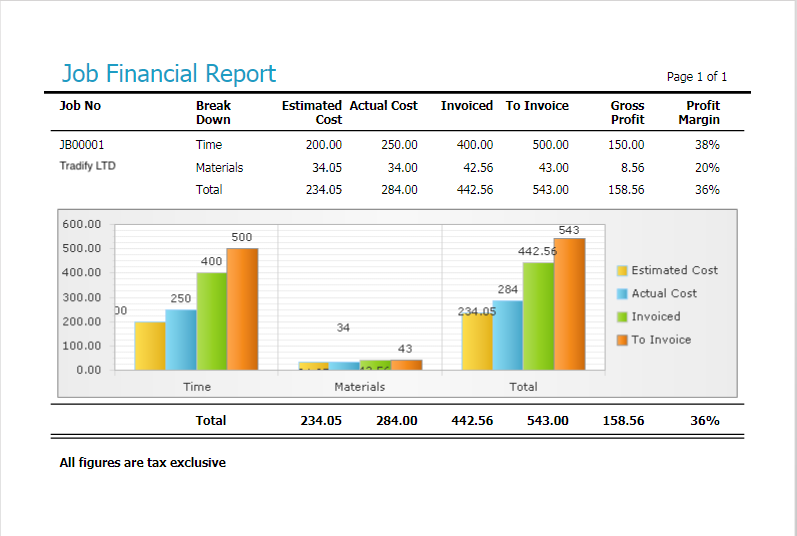 Below is a comprehensive list of what each heading represents.
Job No – The job number and customer.
Break Down - Shows the following 3:
Time

- All timesheet entries assigned to the Job.

Materials

- Any material 'costs' assigned to the Job (this only relates to materials that have been assigned to the 'cost' section of the job).

Total

- Both Time and Materials combined.
Estimated Cost – The Estimated Cost will show a total 'estimated cost' value of all quotes associated with the job. This only relates to Quotes. If there are no quotes associated with the job, this column will show as $0.00. 
Actual Cost – The Actual Cost is a combined total cost of any time and materials entered against the job.
Important Note: Time is calculated off your staff member 'hourly rates' which is taken from their staff member profile.
Invoiced – The invoiced amount relates to the total value of all invoices (excluding GST, VAT or Sales Tax).
To Invoice – This represents the total invoice value of time and materials entered against the job which has not yet been invoiced for. This number will only be accurate if you use the Time & Materials Invoice option when entering invoices for this job.
Gross Profit – The gross profit is calculated from the Invoiced amount minus the Actual Cost.
Profit Margin - This represents the percentage of profit in your selling price.