Connections makes it fast and easy to work with people outside your company, with no added cost.
Want to know how Connections work in Jobs? Check out Using Tradify Jobs To Work With Subcontractors.
Need to schedule your subcontractors? Check out How To Use Tradify's Scheduler to Work With Subcontractors.
Connections in Tradify are defined as someone who is not in your company, such as a subcontractor. When you create a connection in Tradify, you and your connection can:
view basic contact information
share job information
schedule each other for appointments
You can add a new connection through your Connections tab, via the scheduler when creating an appointment, or via the staff and connections list when sharing job information.
How do Connections work?
Adding a Connection
To create and manage your connections, you can use the Connections tab. To add a connection:
Head to the Connections tab in the navigation bar to the left of the screen.
Select Create a Connection.
Enter the email address of your new Connection.
When you're ready to send the Connection request, select Send Invitation to Connect.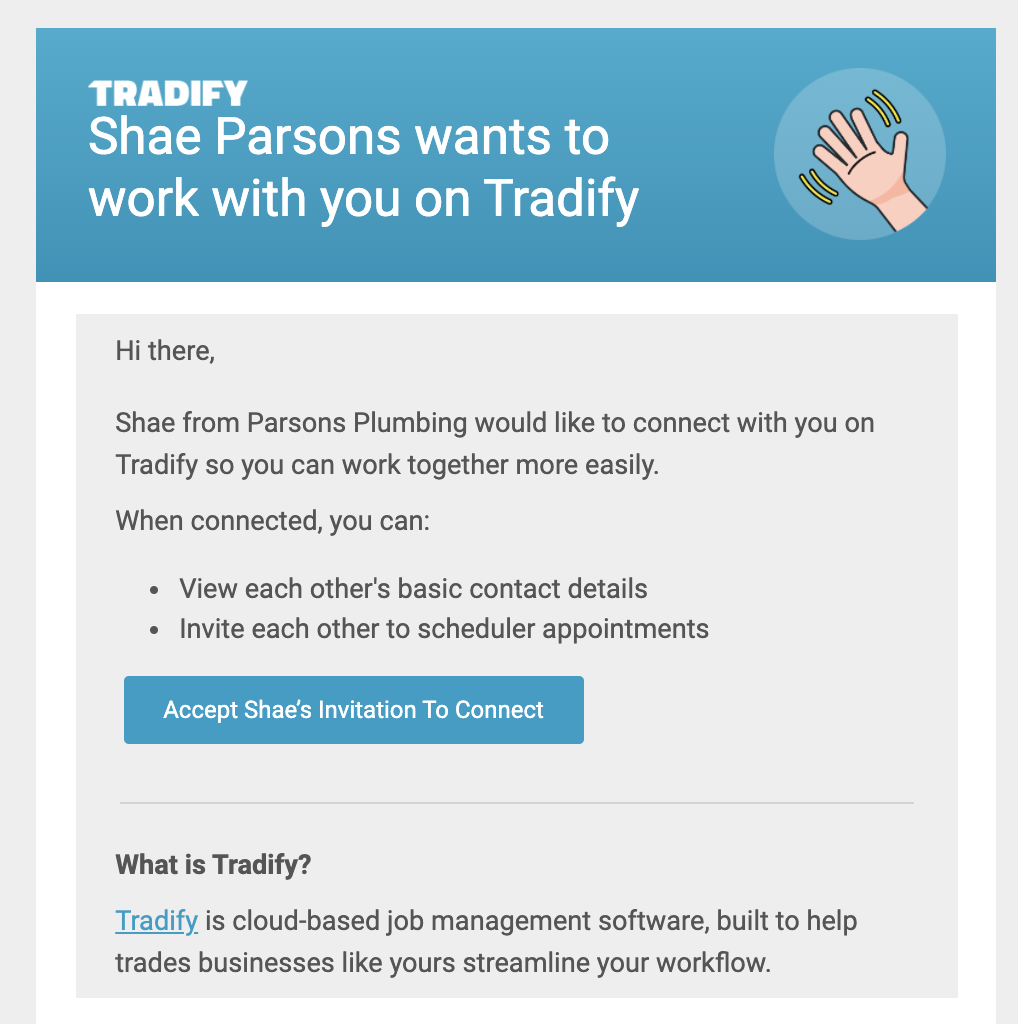 What a Tradify Connect invitation email looks like to new connections.
You can also manage the following in the Connections tab:
Active Connections
Deactivated Connections
Pending Connections
Note: At this stage, you cannot remove a pending Connection.
Deactivating a Connection
To deactivate a connection:
Head to your Connections tab.
Select a Connection.
Select Disconnect.
Deleting a Connection
Note: You can only delete a Connection if they are pending and do not have any appointments or jobs assigned to them. Doing this process for Connections with appointments means you'll move them to the Inactive tab instead. You will not see this Connection in any further Staff or Connections lists for appointments or jobs.
To delete a Connection on Tradify:
Head to your Connections tab.
Select the x on the right-hand side of the Connection.
Select Save.