Adding Time/Labour to Invoices
To add labour to your Invoice, select the "Add Line Item" button (within the relevant invoice) and then select the "Time" tab. Within the fields provided, enter all of the required information and then select "Save".
Note: Below is a comprehensive list of what each field represents.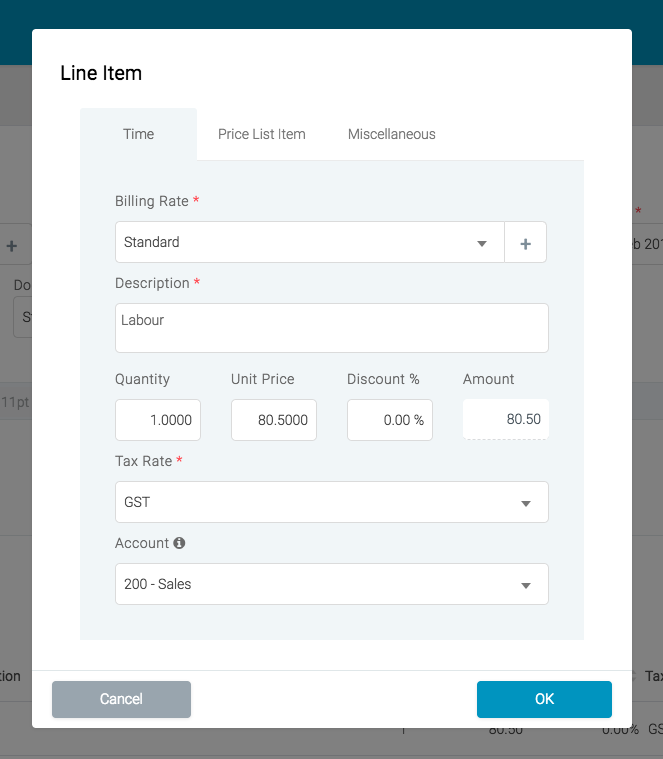 Billing Rate – The hourly rate at which the time is to be charged out at. You can find out more about billing rates here.
Description – A description of the Time/Labour. This defaults to the billing rate's display name, however, you can overwrite this and enter details of what the labour covered for this specific instance.
Note: Descriptions are limited to 200 characters.
Quantity – The number of hours to charge for this Time/Labour component.
Unit Price – The hourly rate to charge the customer for this Time/Labour component. This defaults to the Billing Rate's hourly charge out rate.
Discount % - Use this field to provide a percentage discount to this Time/Labour component.
Amount- Tradify will automatically calculate the amount total for you as well. This is based off your quantity multiplied by your unit sell price.
Tax Rate - Select the tax rate that applies to this time/labour component. If left blank, Tradify will assign the default tax rate. For more details on tax rates, please see here.
Account – Assign to an account code that applies to this Price List Item.
Note: If you're not integrated with an accounting system, please leave blank.