Within the Cost section of the Job, Tradify offers the ability to copy your material line items over from any Bill (supplier invoice) which has been assigned to the Job.
Note: If you would like to copy your material line items over from a Purchase Order, you'll need to convert your Purchase Order into a Bill first. This can be done via a few simple steps which have been outlined in the second part of this article.
Copying Purchased Materials to a Job
Important Note: Before attempting this process, please ensure that your Bill has been associated with the Job. You can easily check this by opening the Bill and clicking Options > Open Job (if it's attached to one) or Options > Attach to Job (if it hasn't been done yet).
To copy your purchased materials to a Job, head over to the Job in question and then select the "Costs" tab. Next, click "New Cost", followed by "Copy Materials from Bill".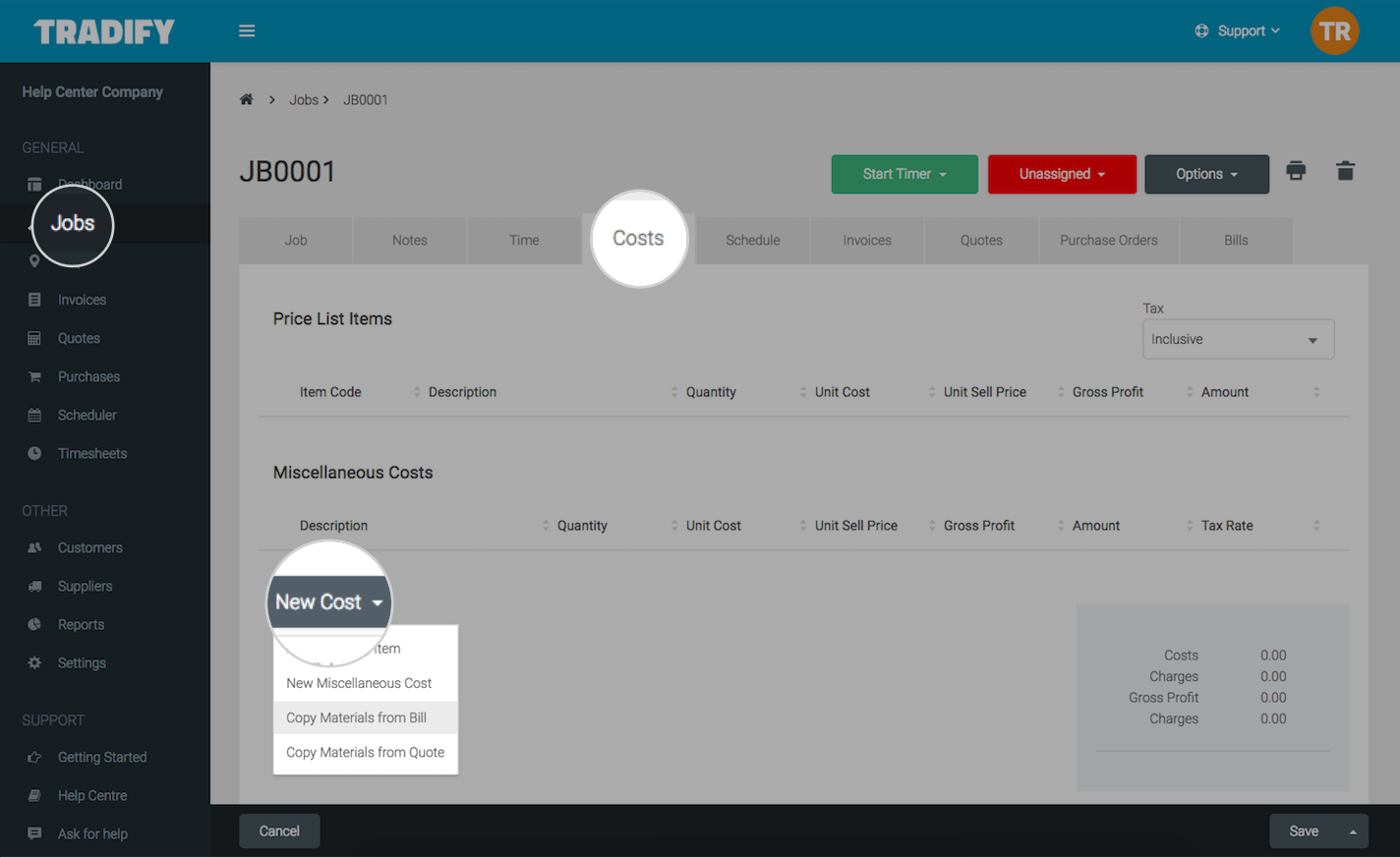 Under the Bill heading, use the drop-down function to select the relevant Bill.
Note: Only one Bill can be selected at a time. Once the bill has been selected, Tradify will automatically list its corresponding line items.
You'll also notice a heading titled "Markup for Miscellaneous Line Items". This is specific to your billed miscellaneous items and allows you to apply a default mark-up to base their sell prices off (cost price x mark-up = sell price). By default, Tradify sets the mark-up to 50%, but you're welcome to adjust this as you see fit.
Note: These items can be individually edited once they've been copied as a cost to the Job.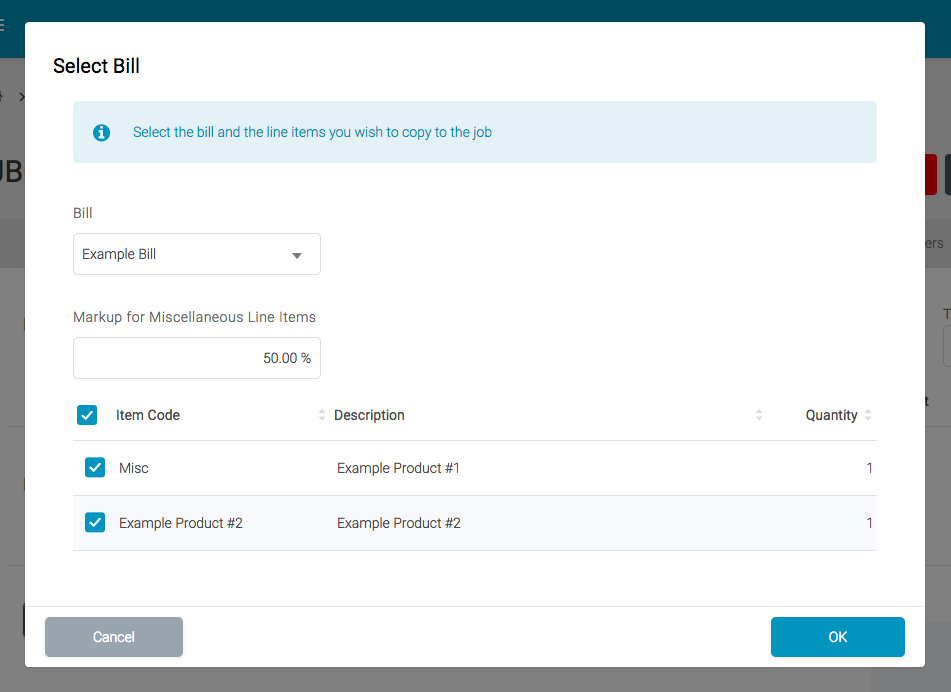 Once you've selected all the items to be copied, click "Ok" and Tradify will add them as a cost to the Job (as shown below).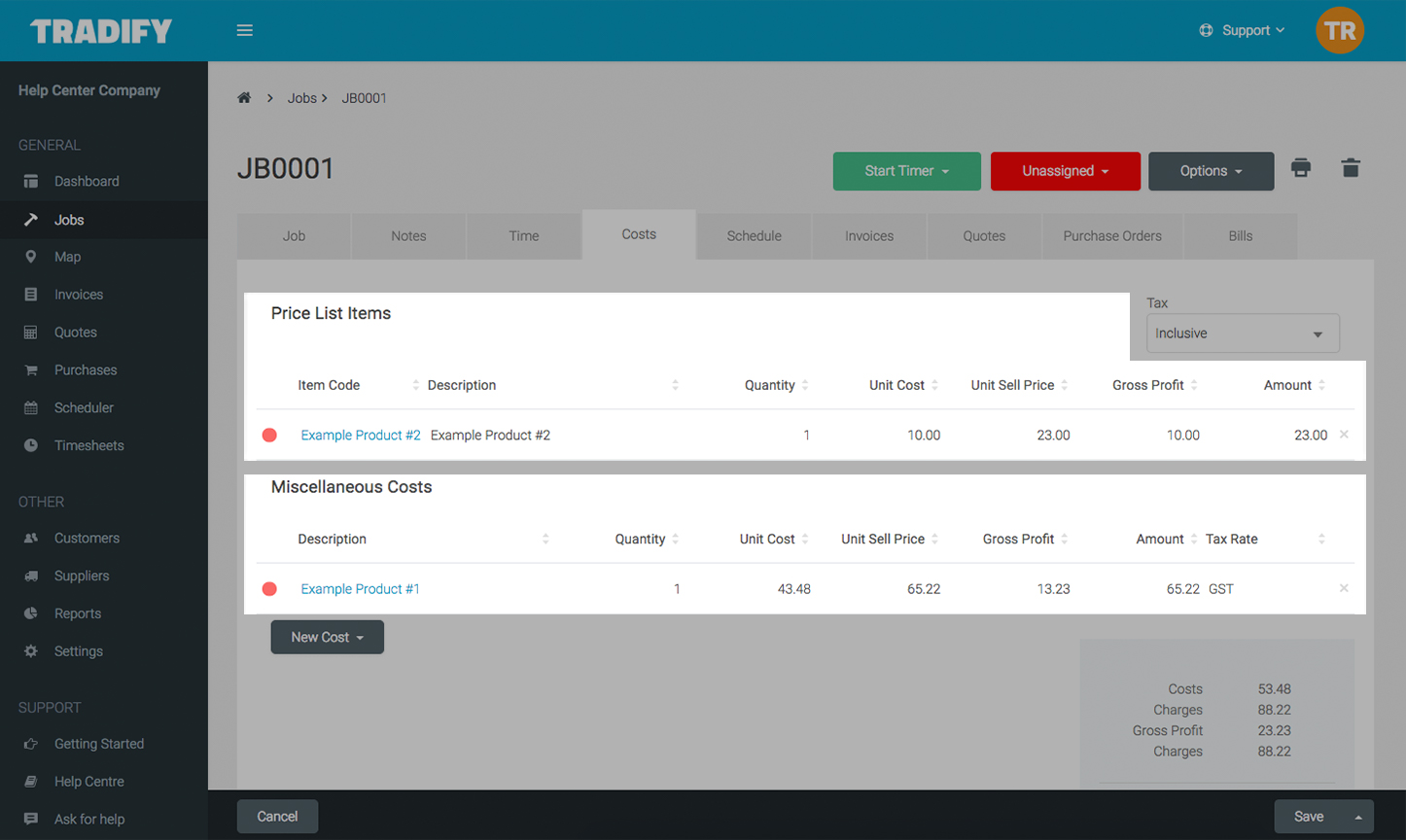 Note: Notice how Price List Items and Miscellaneous Items are separated. This makes it much easier for you to navigate your item lists. Also note how the system has automatically calculated the miscellaneous sell price based off the mark-up.
If you'd like to add additional costs from another Bill, feel free to do so by using the same process. Otherwise, click "Save" to finalise your changes.
Convert a Purchase Order to a Bill (Supplier Invoice)
We created a dedicated article to cover this process. To view it, please see here.